Wrestlemania XXVI is five nights away so expect nothing and prepare for less.

Matt Striker shockingly reveals something meaningful will happen next week as the Pros will vote for one of the Rookies (you thought they'd be voting the rookies off like in the reality shows they're trying to imitate but uhh no, it'd be a bit different than that.)
Heath Slater (3-0) & Justin Gabriel (2-1) vs. Wade Barrett (2-1) & Skip Sheffield (0-2)
First all-Rookie tag match on NXT with only Regal being arsed to head to ringside. Barrett defeated Sheffield last week so is thrilled to be teaming with him. Slater tries shoulder tackling Skip to a big pop. Oh wait, no the crowd's popping for Christian making his way to ringside, looking like someone had to point a gun at him backstage to get him to show up. Barrett bounces Gabriel around as crowd chants "REGAL SUCKS" even though he's not doing anything because Regal's facials are evil. Skip tags in and sticks to the basics. Speaking of which, everyone's seen the Al Snow Tough Enough video about Skip right?
Even with two big dudes destroying Gabriel, there's no crowd heat for him but the crowd does pop for Slater tagging in and flying around the place. Slater gets his deadly schoolboy roll-up on Skip but kicks out so Barrett runs in and ends up punting his partner. This allows Slater to pin Sheffield as Gabriel springboard-land-on-feet-then-elbows Barrett out the ring.
Winners: Heath Slater (4-0) & Justin Gabriel (3-1) (The wrestling was acceptable but the crowd didn't care about anyone other than Slater. Finish was rough but Barrett's proto-WALTER style made up for it.)
Two dramatic video recaps for HBK vs. Undertaker, Cena vs. Batista and Vince McMahon vs. Bret Hart. Two of them work.
David Otunga & The Miz were at the Syfy red carpet party and they manage to wrangle some angle into this fluff piece as Miz explains Bryan just isn't ready for stardom which is why he's with Otunga (whose super power is "knowing famous people.")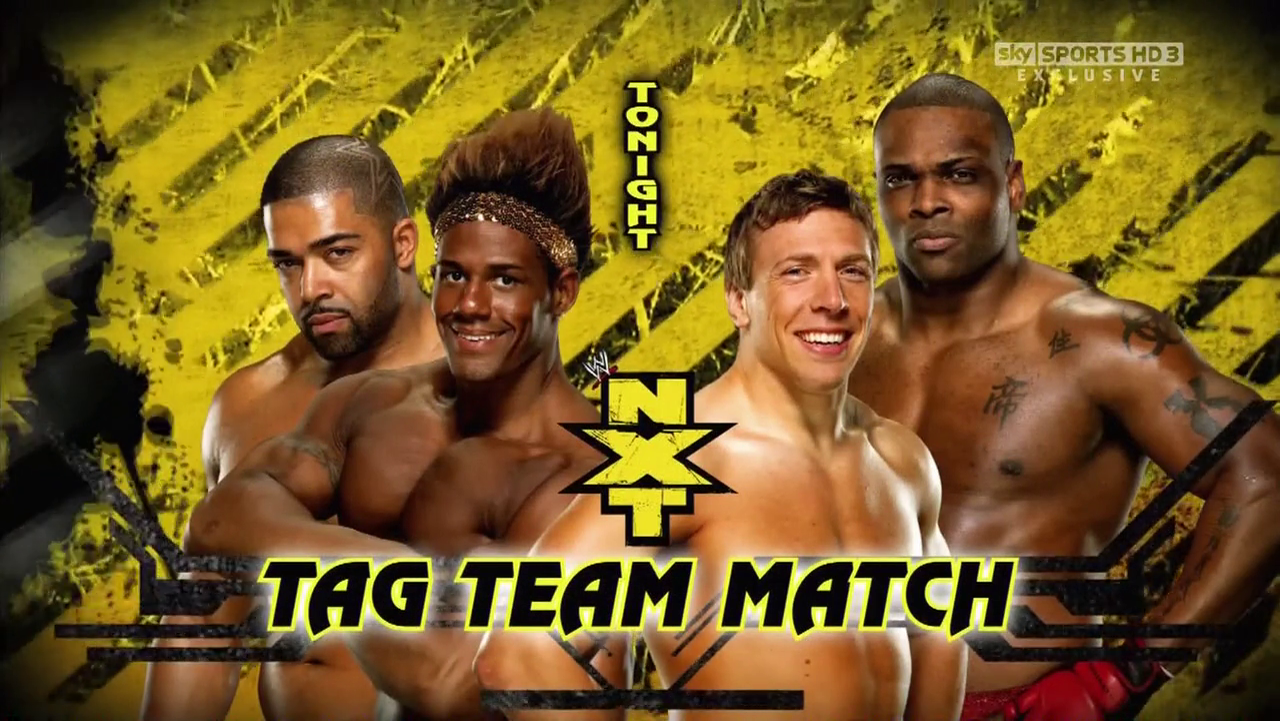 David Otunga (2-1) & Darren Young (2-1) vs. Daniel Bryan (0-4) & Michael Tarver (1-1)
Miz isn't here to support his Rookie and neither is R-Truth for Otunga. In fairness, they have to get ready for that three minute epic this Sunday. Bryan is able to beautifully take down Otunga with mat grappling to the enjoyment of no-one. Bryan tags out to Tarver who we're repeatedly told is a bad-ass but gets dunked by Otunga. Tarver fairs better against Young until Gallows grabs his leg, causing a lot of shouting between the Rookies but none from the Pros Punk & Carlito because neither of them care.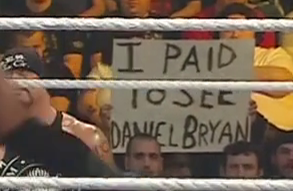 When we return from break, Bryan is again showing off some nice mat wrestling on Young and again no-one cares. Neither the crowd nor the wrestlers are ready for these all-Rookie tag matches. Young slams Tarver and the camera cuts to the Straight Edge Society with their backs turned to the match. Tarver gets mauled by Otunga but Bryan's able to make the tag and deliver some loud kicks to Otunga (it helps the crowd's silent so you can hear every WHACK). Young tags in so Bryan segue-ways into a Jim Breaks special into a guillotine into a omoplata.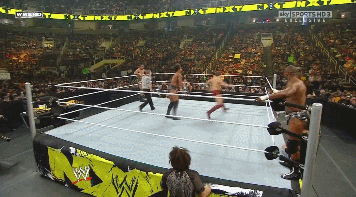 That was smoother than baby rat fur. Young makes the ropes as Tarver decides to argue with Gallows at ringside so he can't make the tag to Bryan. Well that's the idea anyway, you'd think they'd do this spot after Bryan had been on defence for a bit but I'm guessing they realised TV time was coming up and skipped ahead a few pages. Anyway Bryan has to dodge an Otunga charge which bounces Tarver off the apron like in WWF No Mercy 64, Bryan tries a dropkick off the top but misses and takes The Big Fucking Spinebuster to lose yet again.
Winners: David Otunga (3-1) & Darren Young (3-1) (Hopefully someone realises it isn't the right time for all-Rookies tag matches because even with Bryan's fancy grappling, the crowd reacted more to The Abraham Washington Show.)
Overall: Highlight of the show was Tarver's shirt.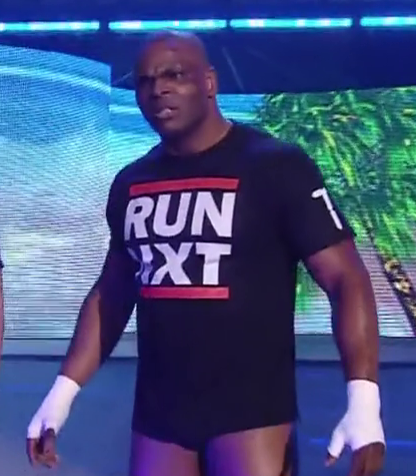 Wrestlemania XXVI Quick Thoughts: One of my favourite Wrestlemanias to watch live as I watched it at my FRIEND WITH BENEFIT'S house so whenever a bad match showed up we'd go to the other room to fuck. The group of people we were with didn't care but they were mad that I predicted Jack Swagger would win MITB. The matches? Uhhhhh.
I've been Maffew and usually I'd have a new Botchamania to post here but I figured I'd wait until Clash got out the way first so go watch OSW instead.