We're in the Staples Centre in LA and you know you're getting something special from the venue that gave us Judgement Day 2004 and Summerslam 2010.

CM Punk & Darren Young vs. Matt Hardy & Justin Gabriel
Matt Striker informs us that the Pro vote will occur two weeks from now because it's Wrestlemania season so who gives a damn about NXT. The Rookies start off with solid sequences while the crowd wait for the stars to get involved. Matt lets Gabe use him for Poetry In Motion, knowing tagging with him will be one of the things he'll be asked about in his post-WWE shoot interview two years from now and he wants him to be positive about Mattitude. Punk reluctantly tags in as he wants to be associated with Darren as much as he wants a TLC match with Ryback. Gabe misses a huge springboard and the crowd "ooos" the air. Cole talks about how the whole continent of Africa are sending their support to the South African. I'm sure they are.
When we return from break, Punk is battering Gabe with 12-6 elbows. Commentators get into a debate about how much of your identity you should change to fit in if you want to progress in life (referring to Young's party boy gimmick and Punk's straight edge-ness) which takes on a different meaning now Young's loud and proud. Or maybe it isn't that deep and I'm just looking for things to type while Gabe misses a 450 Splash. Cole says he took too long posturing to the fans because he's a good commentator this week. If Gabriel misses next week he'll laugh and call him a shit-arse. Punk nearly gets three after the missed 450 so he decides to wear down Gabriel and knock Matt off the ropes to rev up the boos. Justin continues getting tenderised by Punk until he counters the Springboard Clothesline into a dropkick. He finally tags in Matt and the crowd explodes at the meeting of the ECW On Syfy Aces. Matt gets two off the clothesline/bulldog combo but Punk dodges the second rope elbow by rolling backwards and tagging in Darren in an amusingly dramatic moment. Matt & Darren end up outside, Gallows super-punches Gabriel so Matt delivers a Side Effect to take him out. While the ref is dealing with an interfering Gallows, Punk runs in and lands the GTS letting Young get the win.
Winners: CM Punk & Darren Young (Very well put together, solid-arse tag match that had the kids begging for a Matt Hardy tag.)
Post-match Gallows gets his heat(?) back by decking Hardy, Gabriel and…Young?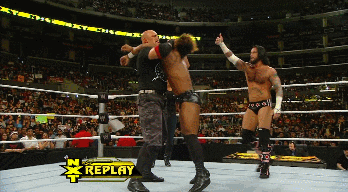 Punk is happy not-sad.
Audioslave's Be Yourself (unless you're Darren Young) is the official Wrestlemania XXVI theme.
Daniel Bryan vs. The Great Khali
The Miz is punishing Daniel Bryan by booking him against Khali and while Cole is running down how much of a monster he is, production cut to the crowd getting down to his entrance music.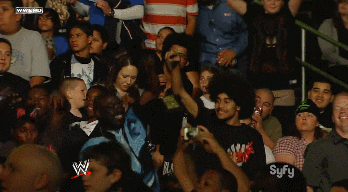 Mathews tries explaining how Cole doesn't live in Bryan's bubble so of course he doesn't appreciate him. Khali does the SHHHHH chop in the corner, which is Big Show's spot and caused them to get into that real fight one time backstage. Anyway Cole mocks Bryan for going to bed at 8pm every day as Khali takes a guillotine which puts him on his knees. He's still the same height as Bryan but Daniel doesn't care as he sails off the top with a dropkick for a two-count. Bryan tries again but jumps right into a chop and a Punjabi Plunge ends it.
Winner: The Great Khali (Bryan goes 0-4 and I guarantee lots of fans in 2010 lost weight from the amount of shit and piss they threw at their walls upon seeing D-Bry lose to Dancin' Khali.)
Post-match THE BIG SHOW SHOWS UP OH SHIT THEY'RE GOING TO FIGHT FOR REAL. Oh wait no, he's here to chokeslam Bryan and leave. No wonder Bryan cashed in on him.
Raw Rebound: Vince McMahon and Bret Hart sign their match contract with SPECIAL MODERATOR STEVE AUSTIN to try to spruce up this long mistake. Bret wants this to be a No Offence Allowed Holds Barred Match and after Vince agrees, Bret reveals he's not really injured and twats Vince with his leg cast while yelling VINCE SCREWED VINCE. I fucking love Bret Hart but I don't enjoy seeing him out here gasping for air like '96 Terry Gordy.
We have another look at David Otunga and…wait it's the same bloody video package we saw a few weeks ago? Yeah it's Wrestlemania season alright.
Wrestlemania Recall: Pete Rose says he left tickets for Buckner but he couldn't bend down to pick 'em up.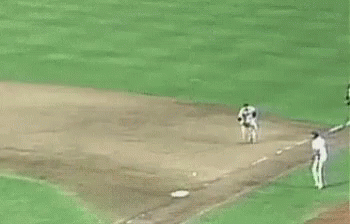 HOW BOUT IT.
Heath Slater vs. Michael Tarver
Slater's happy with his victory over Carlito last week so he's taking on his Rookie. Slater is full of energy but sadly the crowd isn't invested because it's only week 4. Also doesn't help that the Pros aren't at ringside so they're just being sent out to die. Tarver yells and locks in a vicious chinlock but crowd ain't biting. Cole says Tarver's had a rough life because he's got five kids. Tarver misses a charge in the corner so Slater can get the victory via roll-up.
Winner: Heath Slater (Absolutely nothing to this one but Slater's dive was nice.)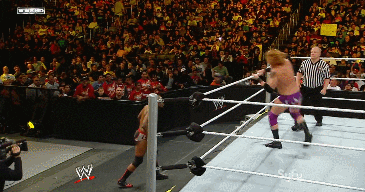 Post-match Tarver is salty and delivers a T-Bone Suplex. "I'm sure people will be talking about Tarver after tonight!"
Backstage, William Regal tries to explain to Skip Sheffield but he can't stop interrupting him so Regal walks off and Skip just stands there talking to himself like Patrick from Spongebob.
Wade Barrett vs. Skip Sheffield
Wade is wanting to make up for his miserable loss to Gabriel last week and Skip's just happy to be here. Skip shows his agility by running around the place and jumping off the top rope (!) before getting yeeted into the ring post on the outside.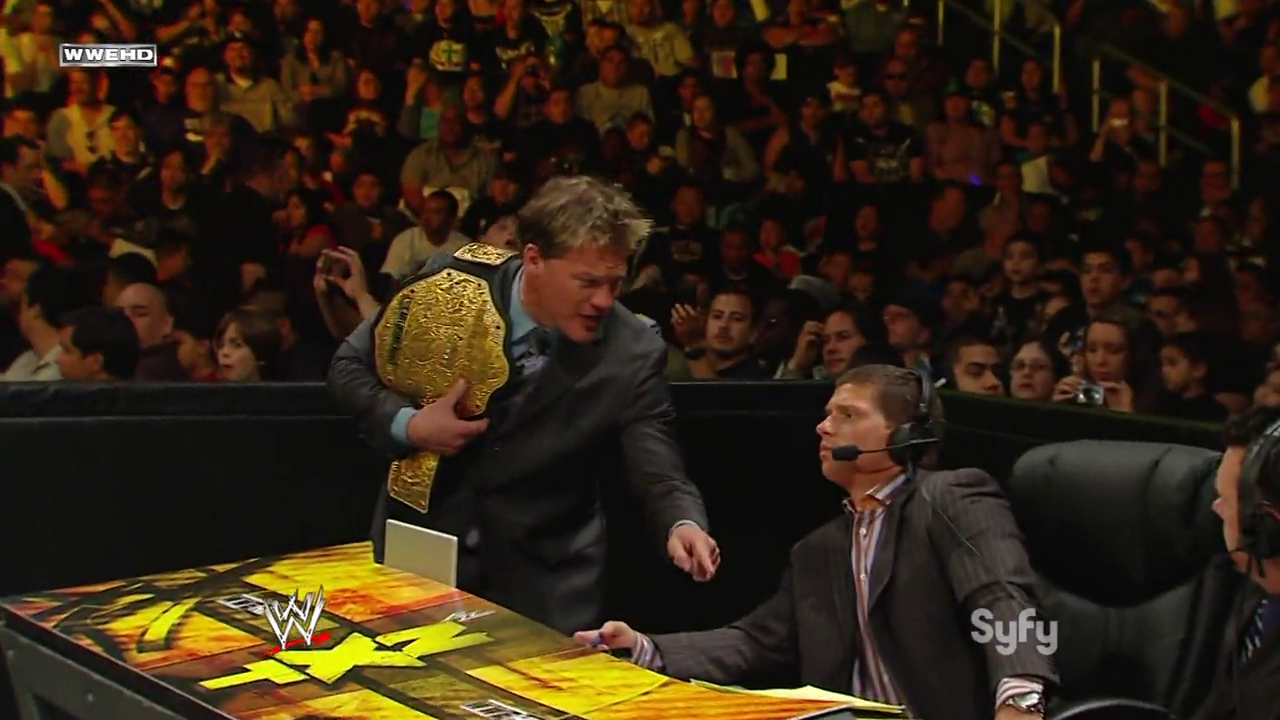 Jericho: Talk about Wade!
Cole: We are!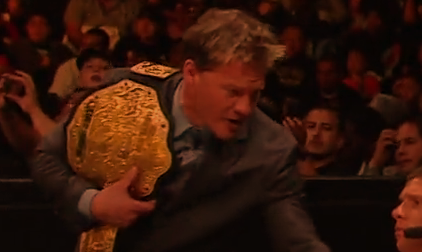 Jericho: MOREEEE.
Mathews decides to talk about Barrett's "Red Rose Of England" before realising he doesn't know anything about it and stops talking (that'd be the Red Rose Of Lancashire because he's from Preston but whatever). Skip makes something resembling a comeback but both Pros are technically baddies so crowd couldn't give a monkey's. Skip lands the Shuffle but Wade kicks out of something that should have been a money-maker for him before putting Skip away with the Wasteland.
Winner: Wade Barrett (Just a match).
Overall: Like I said last week, NXT is simply simmering until that pesky Wrestlemania show is out the way so unless you want to watch a surprisingly solid tag match with a happy crowd you can skip this episode.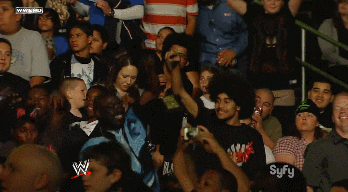 Ajj Naddian wahin gia oh douban aaya Jahaan
Ajj Naddian wahin gia oh douban aaya Jahaan
Ajj Naddian wahin gia oh douban aaya Jahaan
Ajj Naddian wahin gia oh douban aaya Jahaan
I've been Maffew and I cameo'd in Falbo Benjamin's wonderful documentary about Blackcraft Wrestling and that one infamous Wrestlemania weekend show so go watch that.