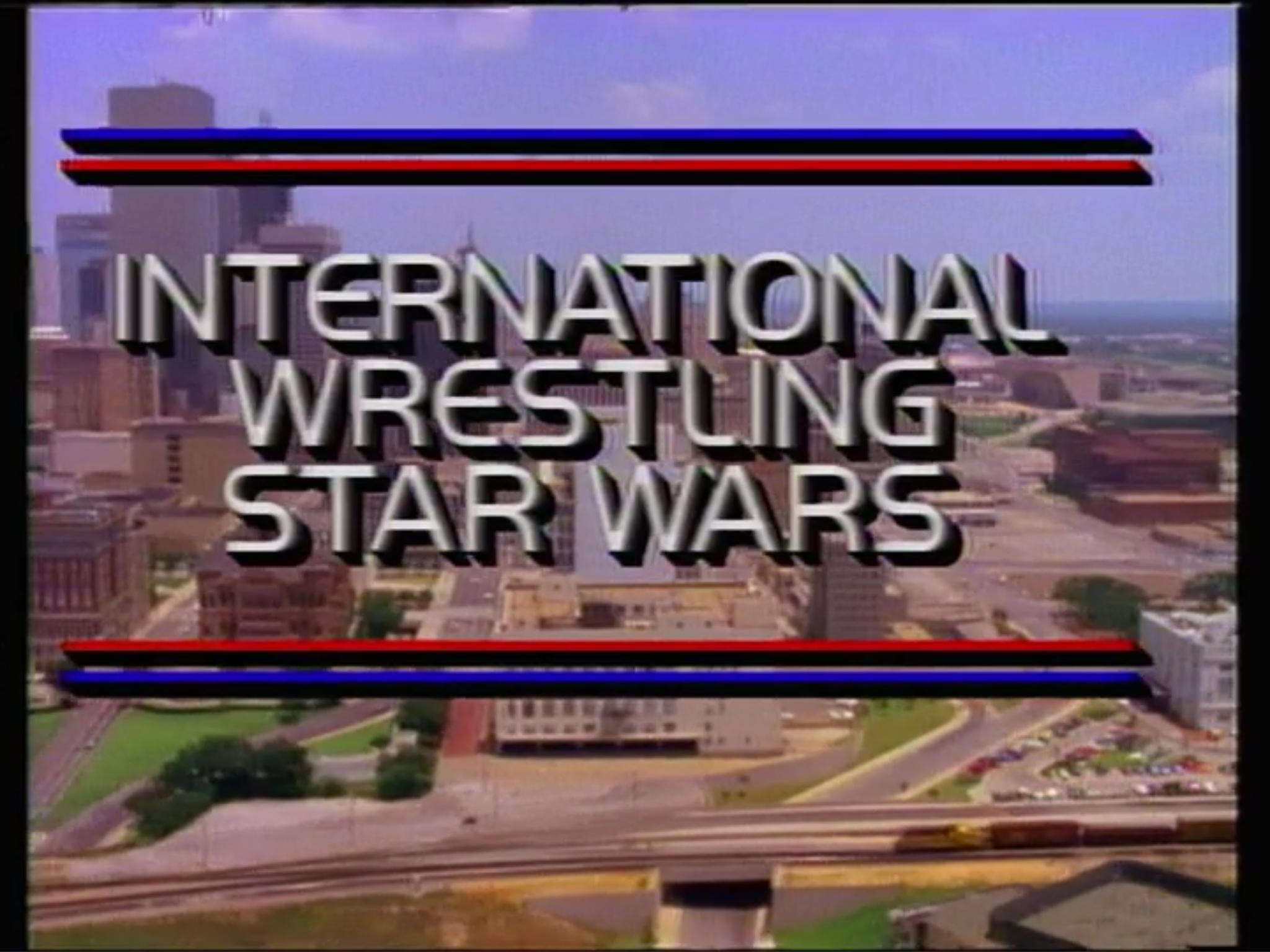 Taped from Dallas, TX
Airdate: July 2, 1983 (taped 06/17)
Attendance: 21,000
Hosted by Bill Mercer
Can Kevin win the NWA World title? Will the Freebirds retain the American tag titles against Kerry and Brody? And who will help me celebrate a championship edition of WCCW?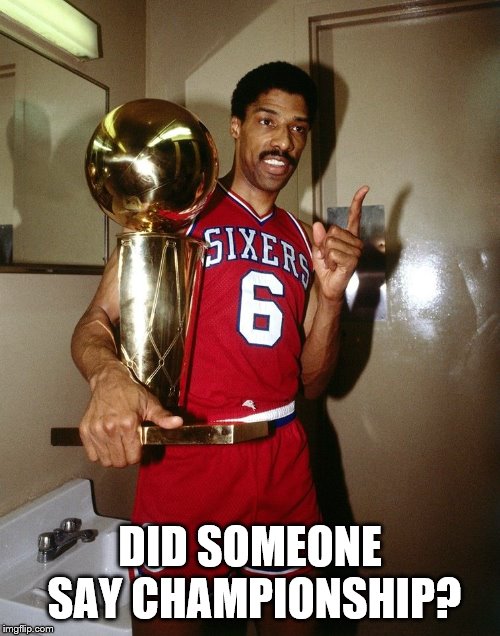 Julius Erving…what an honor! Glad you could join us.
Opening montage.
Match 1 (handicap): Kamala (w/ Gen. Skandor Akbar & Friday) versus Arman Hussain, Tola Yatsu, & Mike Bond
Highlights:
Kamala delivered a double thrust to Yatsu's throat and pinned him.
When Kamala nailed Bond atop his head, Bond flew out of the ring to the concrete floor.
Kamala then sent Hussein to the floor, and Hussein hightailed it backstage with Yatsu.
As Kamala splashed Bond twice, he picked Bond up at 2.
He then splashed Bond a third time and pinned him.
Since Hussein technically quit, Kamala won.
Rating: DUD
Summary: Showcase match for the Ugandan giant.
After the match, Kamala splashes Bond again, so Brody storms to the ring and knocks down both Akbar and Kamala. Officials retrain Brody while Akbar and Friday do the same for Kamala. Brody then carries Bond over his shoulder back to the babyface locker room.
Backstage, Marc Lowrance interviews Brody who answers the call from Kerry to challenge the Freebirds.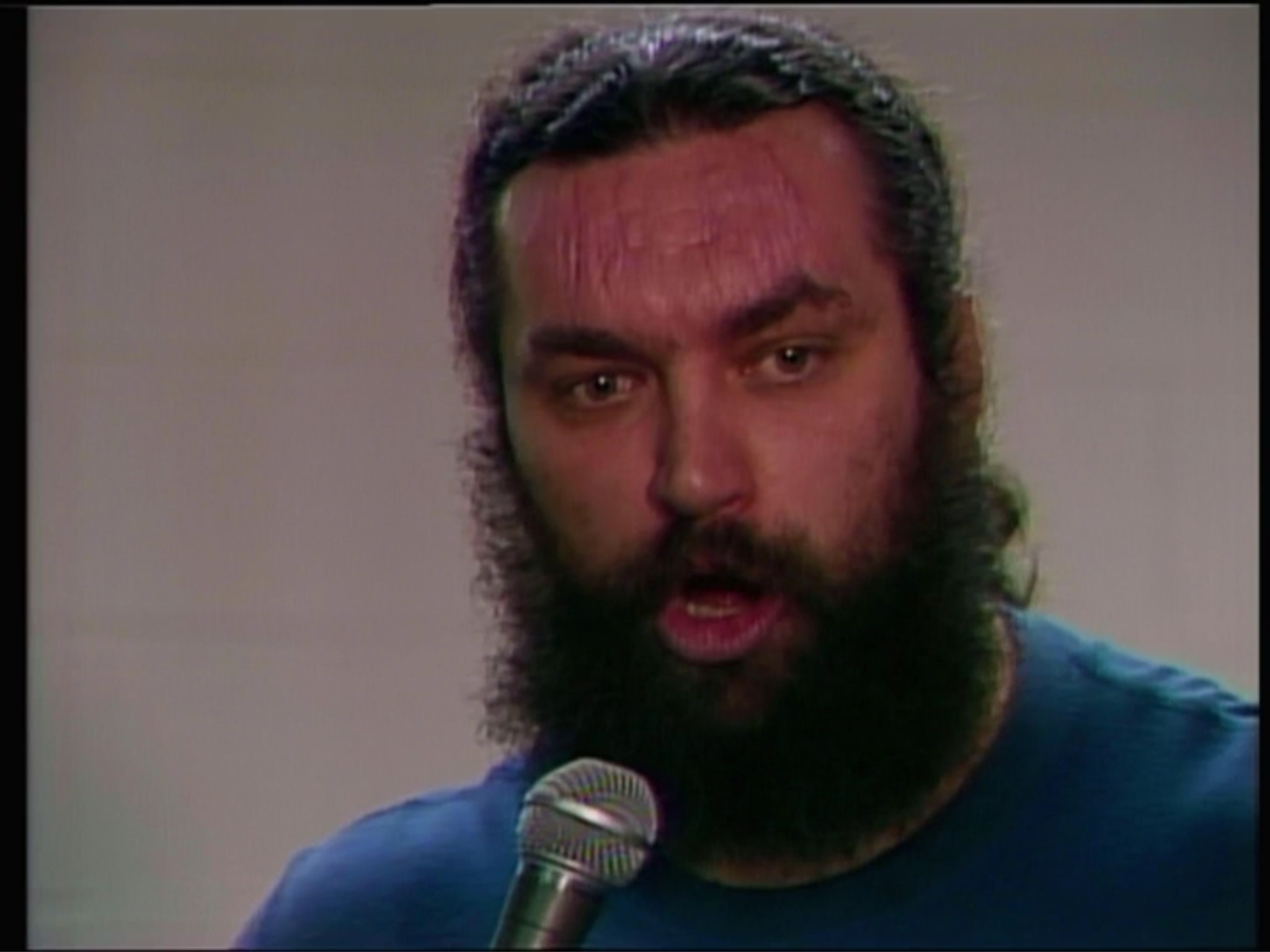 Match 2 for the NWA World title: Harley Race (champion) versus Kevin Von Erich
Highlights:
Despite Race's winning the title, the over-the-top-rope and champion-getting-disqualified-to-save-title rules have been waived. Methinks Kevin might have a chance here.
Kevin leap-frogged and dropkicked Race before mounting the top turnbuckle.
As Kevin delivered a cross body block, he got 2.
Race attempted a vertical suplex, but Kevin escaped and hooked a sleeper.
When Race escaped, Kevin's Irish whip sent Race over the top rope to the concrete floor.
Race raised his arm, but referee David Manning reminded him again of the over-the-top-rope stipulation.
After Kevin reversed a cross corner whip, Race went shoulder-first into the ring post.
Kevin then hit an atomic drop for 2.
As he gave Race a cross corner whip, Kevin hooked a bodyscissors.
Race escaped, yet Kevin applied an Iron claw.
When Race used momentum to send Kevin between the ropes to the concrete floor, Kevin returned, gave Race another cross corner whip, and hooked another bodyscissors.
Race made the ropes to break the hold and tossed Kevin back down to the concrete floor.
During Kevin's fall, he landed on a ringside table injuring his left shoulder and pinching a nerve.
He returned to the ring rightfully wincing, tried to give Race a third cross corner whip, but the pain prevented him from doing so.
After Kevin dropkicked him, Race attacked Kevin's ailing shoulder.
Race then hit a shoulder breaker for 1.
As the Dallas faithful chanted "go Kevin, go," their hero applied a third bodyscissors.
Race made the ropes again, mounted the second turnbuckle, and delivered a double axe handle to Kevin's injured shoulder for 2.
He then remounted the second turnbuckle, leaped, but felt the wrath of another Iron claw.
When Race used momentum to send Kevin between the ropes to the concrete floor, David came to the ring to advise his older brother.
David then got too close for comfort, so Race booted him too.
After David climbed into the ring to protest, he nailed Race and followed with a high knee.
Manning then called for the bell to disqualify Kevin.
Therefore, Race retained.
Rating: ***
Summary: The story of the one-armed man trying to win a championship never results in a happy ending. Same is the case here. Despite the story, Kevin held his own very well with Race.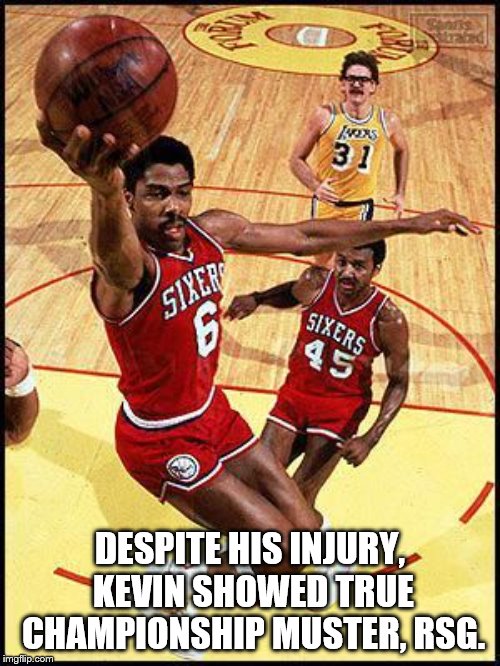 After the match, David continues to attack Race until officials pry him away. With the World title belt in hand, David demands a title shot. After informing Race that if he can't beat him, he'll "quit wrestling," David tries to WALLOP Race with the belt, but Manning shuts that shit down immediately.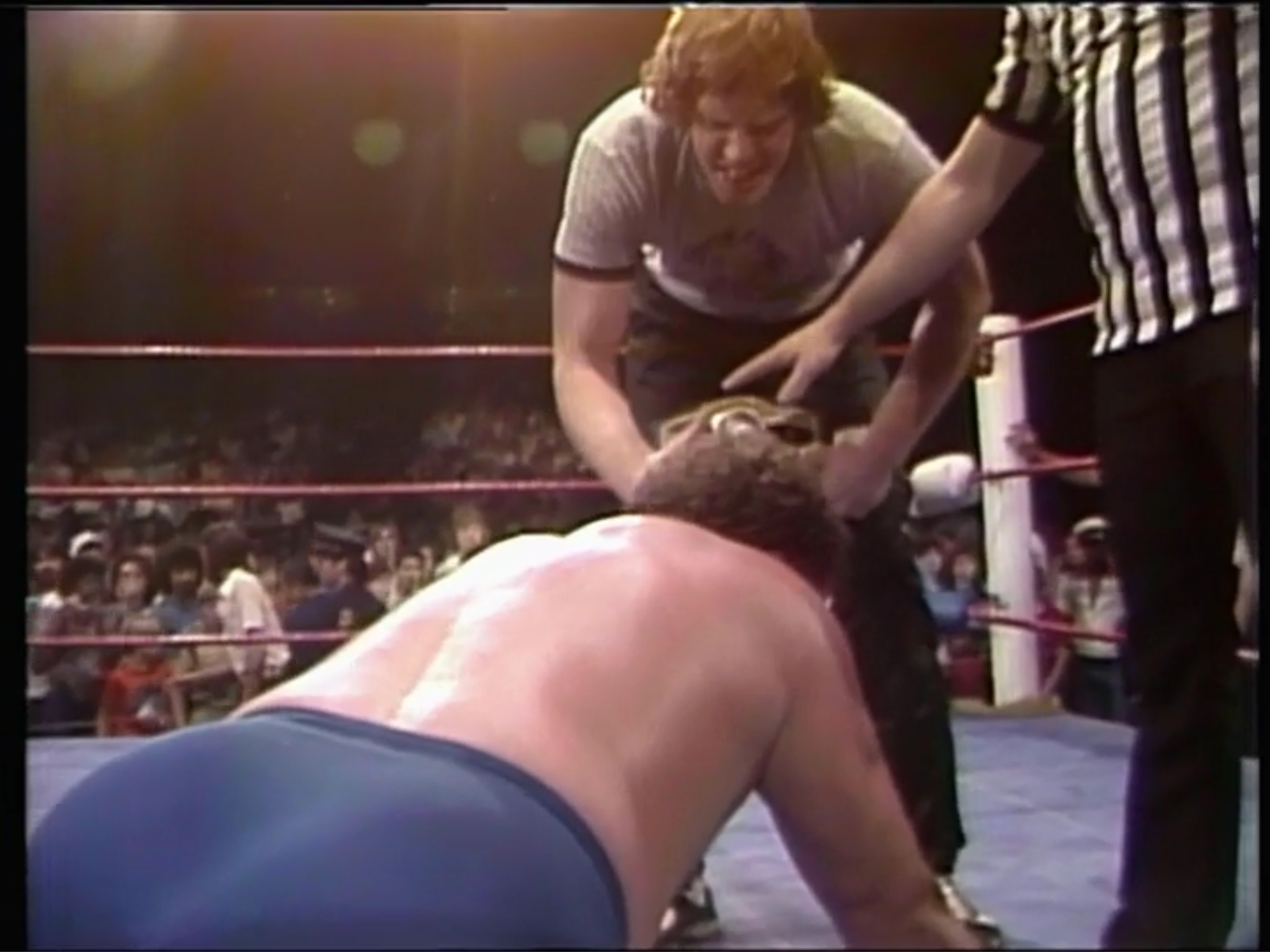 Following a commercial break, Lowrance interviews Hayes about the upcoming tag title match. Hayes then cuts a scathing promo on Kerry and is worried about facing Brody. He then touts Gordy and vows to retain the titles. Great promo!
Match 3 for the NWA American tag team titles: The Freebirds (champions w/o Buddy Roberts) versus the "Modern Day Warrior" Kerry Von Erich & Bruiser Brody
Highlights:
Before the bell rang, Hayes grabbed the microphone and cuts an angry promo on Parsons for Roberts' sake.
Hayes tagged in and delivered a back elbow to Kerry.
When Hayes hit a knee drop, he rammed Kerry face-first into the mat.
Brody tagged in, tossed Gordy between the ropes to the floor, and dropkicked Hayes.
As Brody slammed Hayes with one hand, Gordy came in and suffered the same fate.
Gordy then clotheslined Brody and tagged in Hayes.
After Gordy slammed Brody, Hayes delivered a pair of elbow drops for 2.
Kerry tagged in and dropkicked Hayes.
With all four wrestlers in the ring, Brody slammed Kerry atop Hayes.
1-2-3.
WE HAVE NEW CHAMPIONS!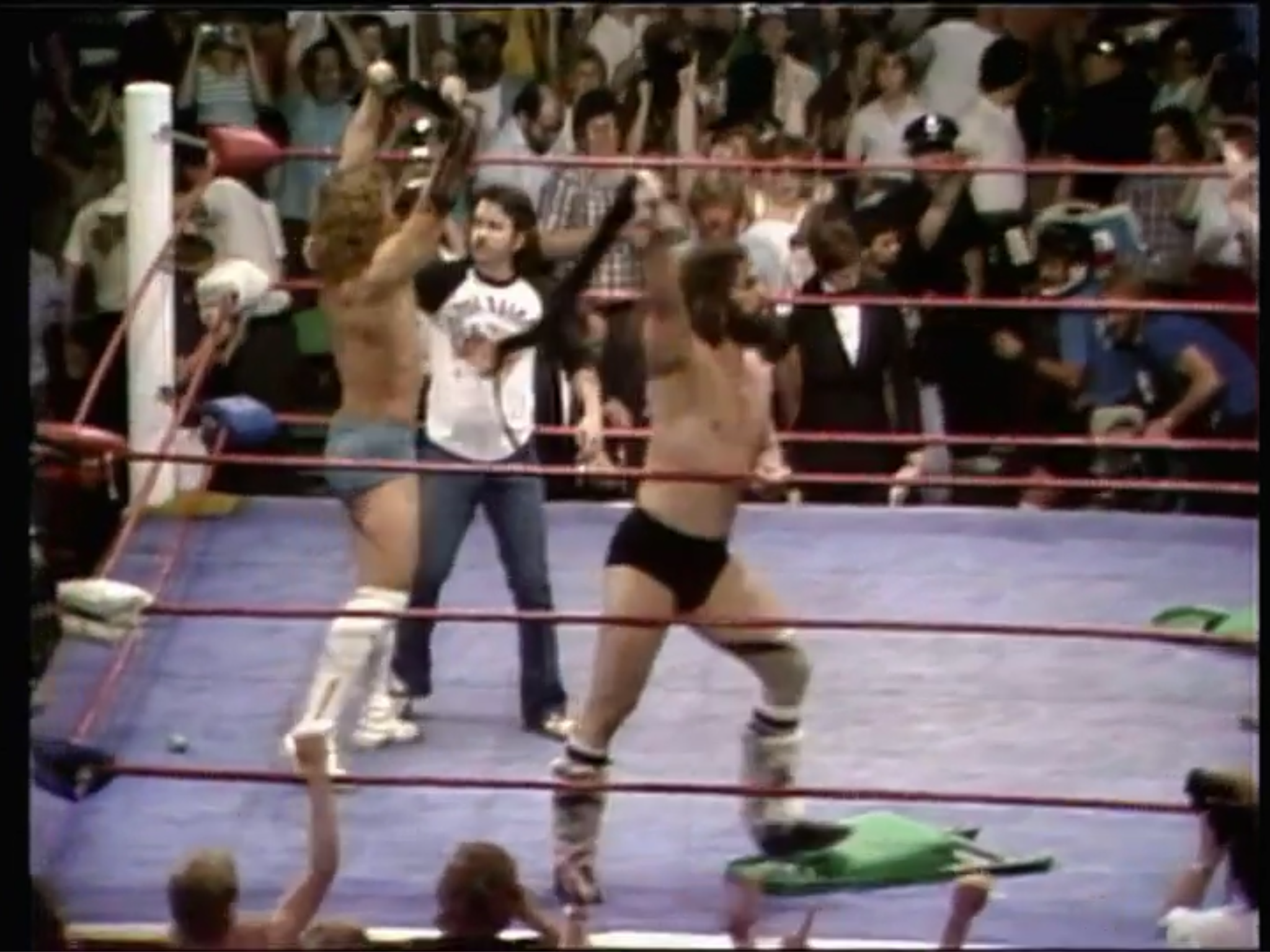 Rating: **
Summary: Historical victory as Brody played a significant role in removing the titles from the Freebirds.
Conclusion: You don't need a ticket or my advice to check out this episode. Host a party and cue this show up for all to see.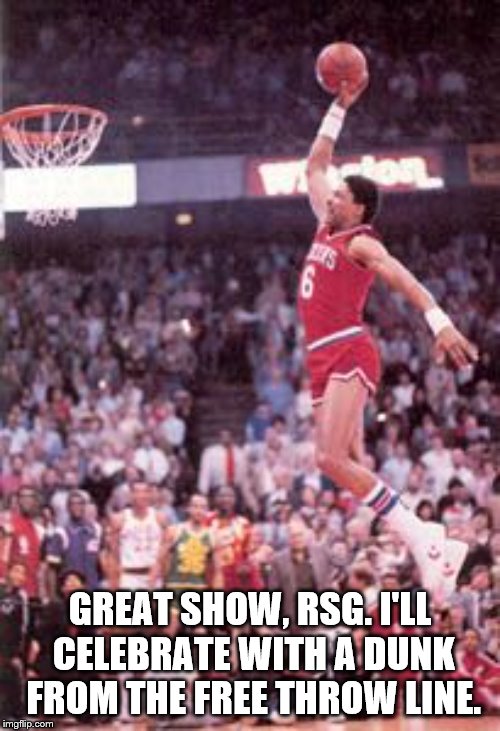 Thanks for stopping by, Julius. Glad you could bestow your championship glory upon this show.
OTHER MATCHES FROM THE EXTRAVAGANZA:
Giant Baba defeated King Kong Bundy.
Ted DiBiase and Jumbo Tsuruta battled to a draw.
Genichiro Tenryu beat Johnny Mantell.
Vicki Carranza allegedly won the UWA Women's title by defeating Lola Gonzales.
TV Rating: NONE
Stay tuned for WCCW 07-09-83!
Comments? Suggestions? Send them to me at [email protected] and follow me on Twitter (@rockstargary202). Also, please check out all of my reflections at rockstargary.com.