Rock Star Gary reflects on WWF Monday Night RAW 11-15-1993
By Rock Star Gary on 4th February 2019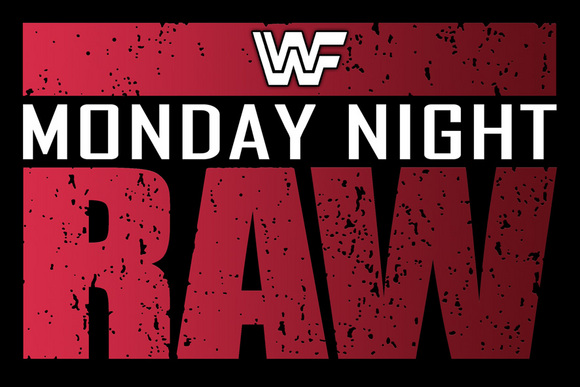 Taped from Bushkill, PA
Airdate: November 15, 1993
Attendance: unknown
Hosted by Vince McMahon & Bobby "The Brain" Heenan
Can Pierre Ouellet survive against Lex Luger? Also, Ramon and Diesel show off their talents. Included is al a developing story. Let's rock!
Opening montage.
Due to his actions last week, "Macho Man" Randy Savage will not appear this week.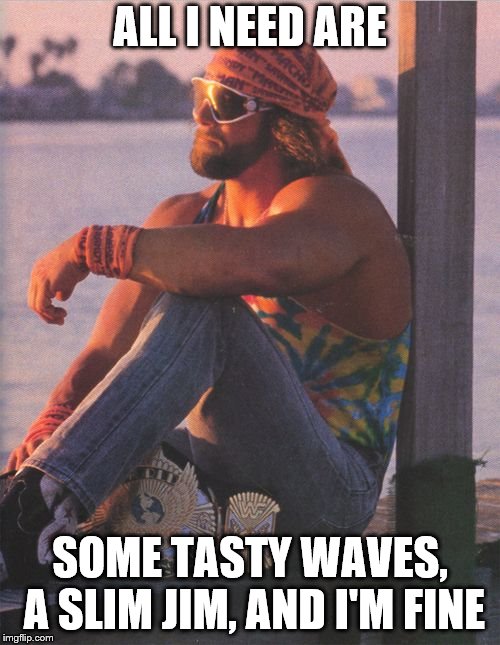 Match 1 (non-title): WWF Intercontinental champion Razor Ramon versus the Brooklyn Brawler
Highlights:
According to Vince, the "Heartbreak Kid" Shawn Michaels was reinstated this past Saturday and will replace Jerry "The King" Lawler at the PPV.
Brawler attacked Ramon before the bell, tried to WALLOP him with the belt, but referee Joey Marella swiped it away from him.
When he gave Ramon a series of cross corner whips, Brawler ate boot on his follow-through.
Ramon then bulldogged him and landed a discus punch.
As he delivered a fallaway slam, Ramon hooked an abdominal stretch.
Brawler escaped and hit a back elbow.
After Heenan got exceedingly excited about Michaels' involvement at the PPV, he accidentally referred to the Hart clan as the "Fart Hamily." HA!
Nonetheless, Ramon delivered the Razor's Edge and pinned Brawler.
Ramon won.
Rating: ½*
Summary: Showcase match for Ramon.
A pre-recorded promo by Crush airs as he cuts a promo on Savage.
Promo airs for Survivor Series Showdown featuring Bret versus Yokozuna for the WWF title. It will air on 11/21 @ 7pm ET on USA. Unfortunately, it's not on the WWE Network.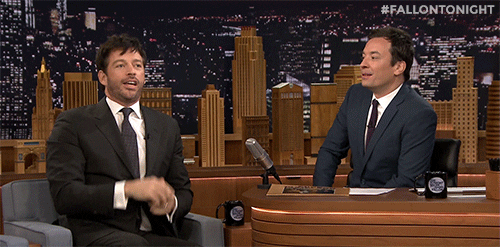 Promotional consideration paid for the following: ICOPRO and WWF action figures.
Match 2: The Headshrinkers (w/ Afa) versus Mike Moraldo & Mike Bucci
Highlights:
With Lawler and Savage unavailable for commentary this week on Superstars, Reo Rogers will step in for color commentary. The less said about him the better.https://www.youtube.com/watch?v=2I4VkXzXxNU
Moraldo tagged in and dropkicked Bucci atop Fatu for 2.
As Fatu rebounded with a crescent kick, Samu tagged in, and the Headshrinkers flapjacked Moraldo.
While Samu distracted referee Tim White, Fatu gave Moraldo the business in the heel corner. How dastardly!
Samu slammed Moraldo and tagged in Fatu.
After Fatu delivered a backbreaker, Samu tagged in, and the Headshrinkers hit a double Stroke on Moraldo.
Fatu tagged in, mounted the top turnbuckle, and provided Moraldo with a flying splash.
1-2-3.
The Headshrinkers won.
Rating: ½*
Summary: Showcase match for the Headshrinkers.
We then revisit Superstars from this past weekend when the All-Americans replaced Tatanka with the Undertaker. Obviously, Undertaker's a dead man resurrected from an earlier time in American history.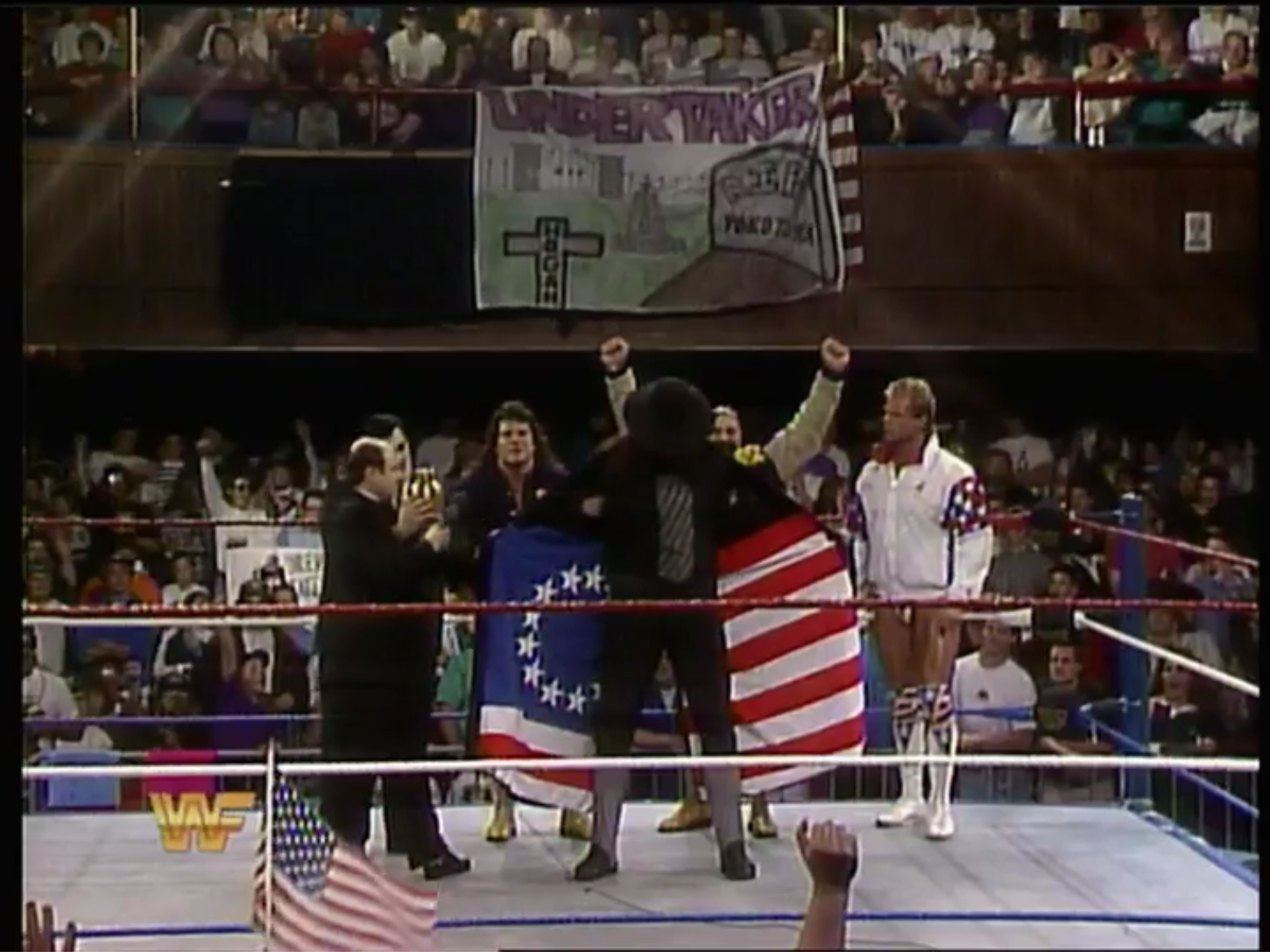 Match 3: WWF tag team champion Pierre Ouellet (w/ Johnny Polo) versus Lex Luger
Highlights:
Luger gave Ouellet a HARD cross corner whip to injure the back.
When Luger gave him another cross corner whip, Ouellet took a sternum-first bump.
Luger then delivered a belly-to-back suplex for 2.
As Ouellet gave Luger a cross corner whip, he ate boot on his follow-through.
Luger then clotheslined him for another 2.
When Polo caused a distraction, Ouellet charged at Luger on the floor but got backdropped.
Following a commercial break, Luger blocked a hip toss but ate a clothesline.
Polo then distracted Luger again, so Ouellet CREAMED Luger sending him to the floor.
After Ouellet leaped from the apron and hit a double axe handle, he rammed Luger face-first into the steps.
Upon beating the count, Ouellet leaped from the apron and delivered a second double axe handle.
He then rammed Luger back-first into the ring post and got 2.
When he supplied Luger with a running guillotine, Ouellet slammed him.
He then delivered a Vader bomb for another 2.
Following another commercial break, Ouellet hit a piledriver but only got 2.
He then slammed Luger, mounted the top turnbuckle, and botched a guillotine leg drop for another 2. OUCH!
GTFOH, Shawn, and go rellish your "victory" over Bret in my Monday Night War reflection.
As he delivered a sidewalk slam, Ouellet remounted the top turnbuckle but missed a somersault senton.
Luger then backdropped and clotheslined Ouellet twice.
After he powerslammed Ouellet, Luger got 2.
He then placed Ouellet atop the top turnbuckle, joined, but got nailed.
When he slammed Ouellet down to the mat, Luger hammered an incoming Polo.
He then landed a flying forearm and pinned Ouellet.
As a result, Luger won.
Rating: *
Summary: If you wondered why Luger-Borga matches were tanking the house show circuit around this time, look no further than this match as Luger failed to carry Ouellet to a respectable match on national TV.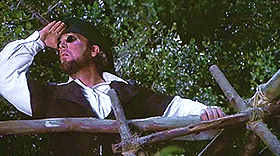 Promotional consideration paid for by the following: WWF Royal Rumble video game.
After the match, Ouellet is OUT COLD despite Polo's and Jacques Rougeau's best efforts.
Promo airs for Survivor Series LIVE on PPV on 11/24. Order NOW!
Ouellet exits the ring via stretcher.
Promo airs for Survivor Series Showdown this Sunday on USA.
Match 4: Diesel versus Sid Garrison
Highlights:
Diesel delivered a backbreaker but missed an elbow drop.
As he hit a gutwrench slam, Diesel provided Garrison with a sidewalk slam.
He then supplied Garrison with a running guillotine before landing a big boot.
When he delivered an elbow drop, Diesel pinned Garrison.
Rating: DUD
Summary: Showcase match for Diesel. Again, I ask that SOMEONE give Diesel a true finisher.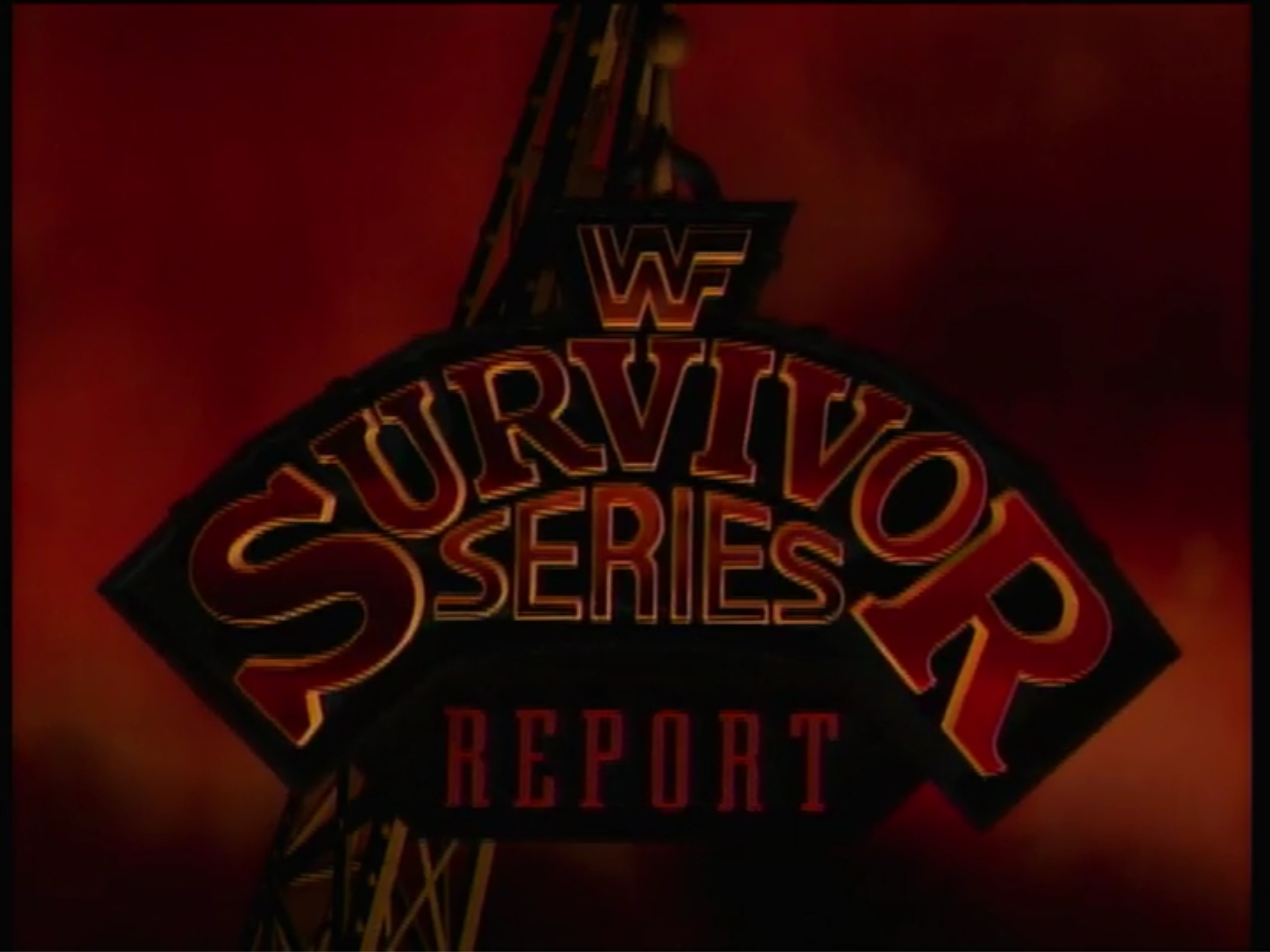 SURVIVOR SERIES REPORT: Joe Fowler Todd Pettengill runs down the card:
The All-Americans (Luger, Undertaker, & the Steiners) versus the Foreign Fanatics (Yokozuna, Borga, & the Quebecers)
Razor Ramon, Mr. Perfect, Marty Jannetty, and the 1-2-3 Kid versus IRS, the "Model" Rick Martel, Diesel, & Adam Bomb
Bam Bam Bigelow, Bastion Booger, & the Headshrinkers versus four Doinks
For the Smoky Mountain tag team titles, the Rock'n'Roll Express defend against the Heavenly Bodies
Call the Survivor Series hotline at 1-900-454-4WWF.
Vignette #5 for J-E-F-F J-A-R-R-E-T-T includes a cameo from Jacqueline (a.k.a. Miss Texas).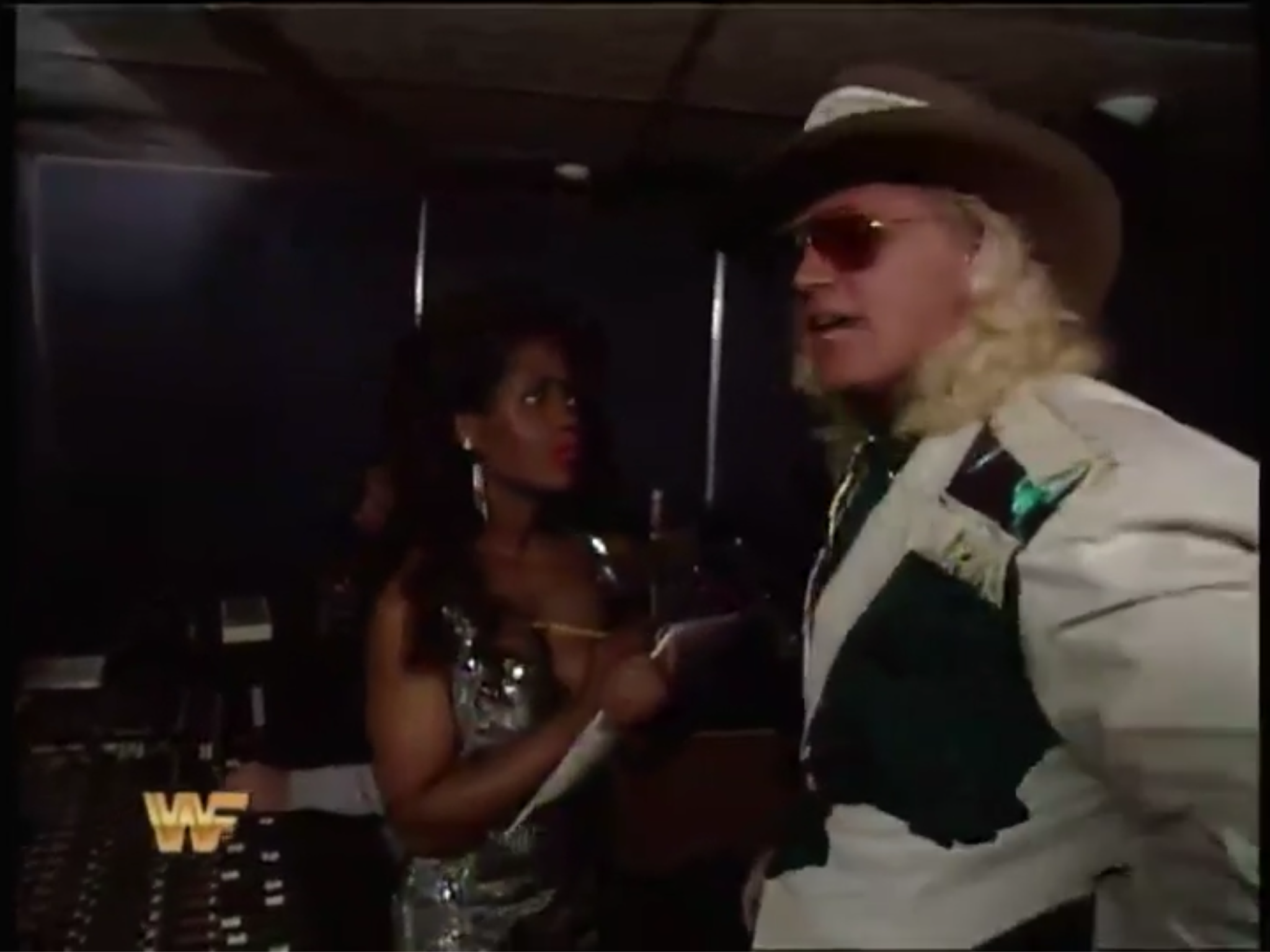 Vince then plugs Survivor Series Showdown this Sunday on USA.
Conclusion: I realize that the **cough**missing**cough** show on Sunday is the true go-home show for the PPV, but if this is all we have, the PPV will sink to new depths.
TV Rating: 3.1
IN OTHER NEWS THIS WEEK: Just off the printer…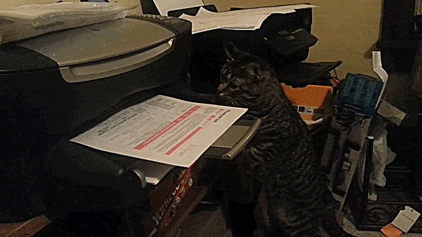 Both Vince McMahon and Titan Sports were indicted for violating steroid laws. Could this mark the end of the WWF? More on this story as it develops.
Stay tuned for WCW Clash XXV!
Comments? Suggestions? Send them to me at [email protected] and follow me on Twitter (@rockstargary202). Also, please check out all of my reflections at rockstargary.com.