Great American Bash was this Sunday so here's the relevant news:
Matt Hardy lost the U.S. Title to Shelton Benjamin in an un-hyped match because it was useless to him after being drafted unless he was going to wrestle Chavo every PPV.
Morrison & Miz sadly lost their titles in to The Edgeheads in a no-build four-way tag match involving Finlay & Hornswoggle and Jesse & Festus. Luckily they didn't get pinned in the end result but what a shitty end to a magnificent reign.
Mark Henry vs. Tommy Dreamer (ECW Title)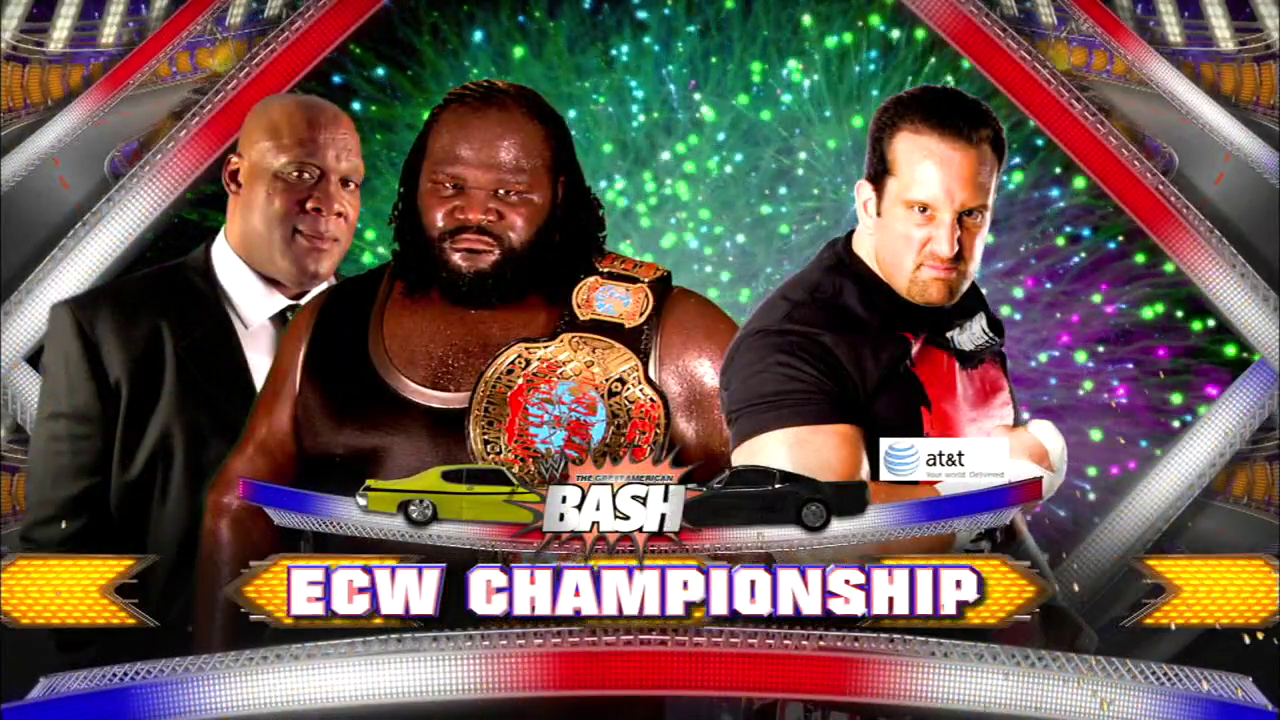 Dreamer gets a decent "hey it's that guy" pop and immediately attempts taking Henry down. Henry just stands there laughing until Tommy starts punching him so Henry clotheslines him down. Sadly after a cool start, Henry slows it right down with a chinlock and follows with a lengthier wristlock. Dreamer uses the power of the "boring" chants to power out and to get clotheslined down again. Dreamer slugs away on Henry but can't knock him down so he connects with a swinging neckbreaker for two and lands a DDT out of nowhere (guess they were told TAKE IT HOME NOW by the ref) so Dreamer can go up top for a flying something. Sadly for Tommy, Colin Delaney turns on him and sends him into the ropes so Henry can slam him for the win.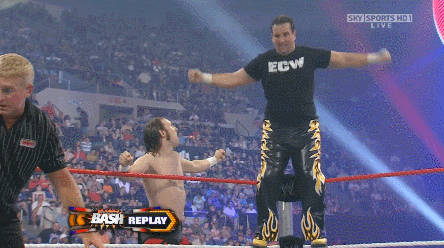 Winner and still ECW Champ: Mark Henry (Dreamer and Henry had good chemistry for a minute then it went to hell thanks to the short length, long restholds and Dreamer's FCW offence. At leas Delaney did something.)
ECW on Sci-Fi 07/22/08
Teddy Long is in-ring with the brand new ECW Title to celebrate Henry's first defence on PPV. I liked this design, the silver and black showed the brand's difference from Raw and Smackdown and that they were moving on from the original ECW belt. It's also big enough to fit around Henry.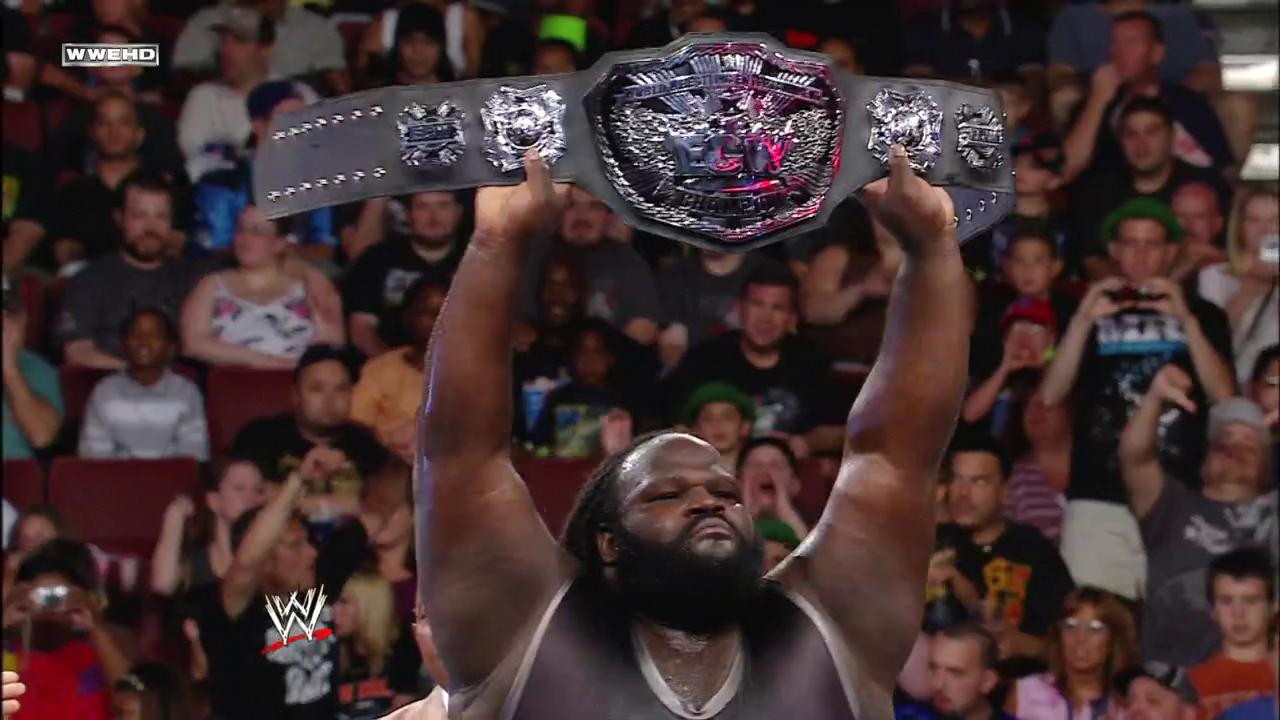 Atlas bigs up Henry (speaking only as he can) and introduces "Colins Delaney" to explain his actions. A cocky Delaney doesn't care that Dreamer got him his contract in ECW, he made him a laughing stock. Delaney's titantron is still footage of him getting beat up with his name showing on a band-aid so he's not wrong. Delaney saw Henry on the PPV and saw the future of ECW and Colin doesn't want to be part of the past. (crowd: "booooo!")
Teddy isn't happy with Colin's actions so because we're in Philly he books Colin vs. Tommy RIGHT NOW. Atlas gives Colin a sombre "Good luck" before leaving Colin alone with only shit in his pants.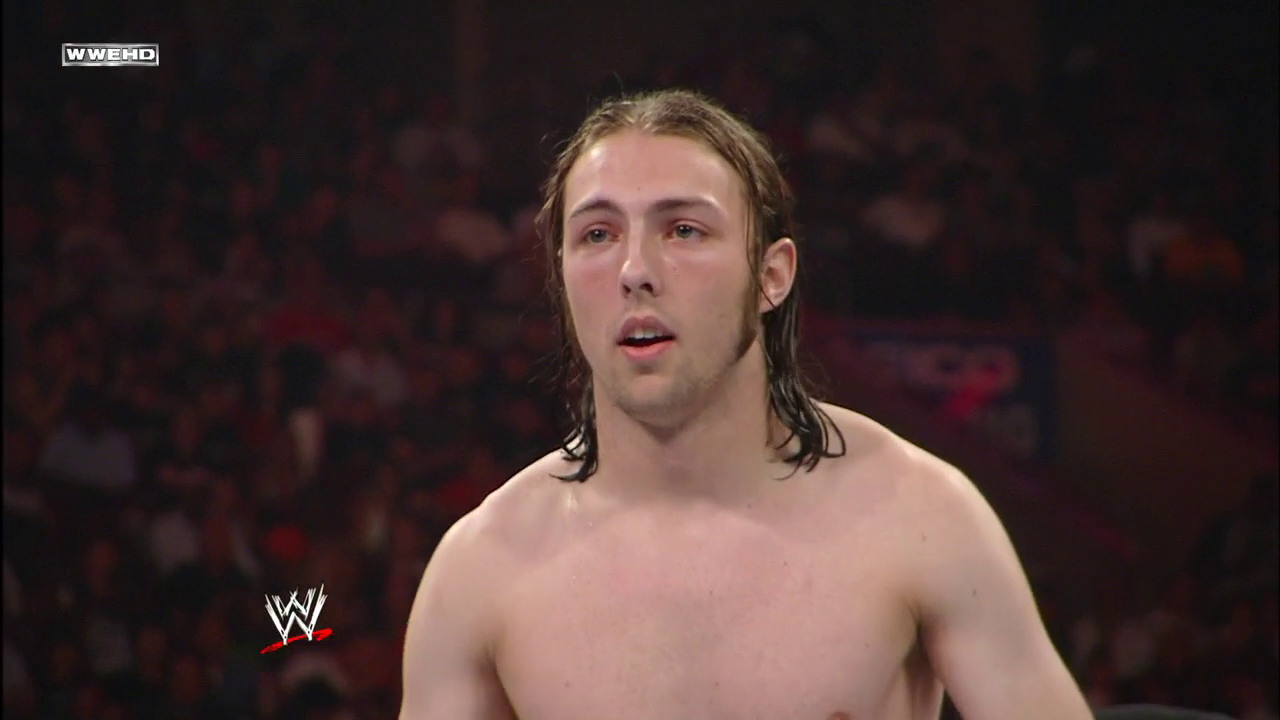 Tommy Dreamer vs. Colin Delaney
Dreamer treats Colin like a stress-toy while the crowd chant E-C-DUB. I'm getting mixed signals at this whole "it's a new ECW with a new belt and oh by the way here's Dreamer the ECW Original" thing. Delaney attempts to run away and then take advantage of Dreamer re-entering the ring but it doesn't last and Tommy lands the E-pant-C-cough-W-ohgodmyheart Tree Of Woe. Dreamer sends Delaney flying with a Spicoli Driver and ends it with an emotional DDT. "I know it was you Delaney. You broke my heart."
Winner: Tommy Dreamer (Delaney being the Buddy Rogers to James Ellsworth's Ric Flair is fine as Delaney turning is something for him to do as the 'plucky twink' thing was done months ago.)
Backstage, Morrison & Miz are furious at losing their tag titles without getting pinned. They look forward to proving themselves in the four-way Number One Contender's Match tonight and compliment each other's clothes. "My jacket is made from farm-raised jackal. I care about the environment."
Jenny McCarthy is going to be at SNME and she's going to wrestle Autism. Oh if only it was 1998 and she defeated a syringe-wielding Steve Autism by throwing a salad at him.
Evan Bourne vs. James Curtis
Chavo is on commentary and gets two minutes into the match before mentioning Eddy. Bourne shows off a few armbars before popping off Frankensteiners to the joy of the crowd. Chavo promises to send Evan back to Heaven as Curtis slugs away with his fearsome chinlock. Evan comes back with some pretty kicks and counters a powerbomb with another Frankensteiner to set up the always-pretty Shooting Star Press for the win. Post-match, Neely goes for him so naturally Bourne gets away.
Winner: Evan Bourne (Bourne's offence continues to get positive reactions but they're not popping for the man himself as the only thing he has outside of flips is "Kofi's friend" and he's gone now.)
RAW RECAP: Kane cost Batista his shot at Punk's title on Sunday so he wants a rematch tonight. Kane chokeslams Dave before the match and so brave babyface Punk…still wants the match. Uh huh. It goes to a no-finish as JBL runs in and Cena brawls with anyone. No wonder Punk bombed during this run when he's the champ but Batista is feuding with Kane and Cena is feuding with JBL. And he's a dick.
Backstage, Ricky Ortiz and whatshername pretend to talk about college. He then suggests some merchandise ideas with Teddy who reminds him he's only had one match. "Yeah but I'm undefeated." Teddy books a match for next week and that's the ECW on Sci-Fi return of Forward Planning.
Promo package for no-thrills Mike Knox. Uh huh.
Winner Faces Mark Henry At Summerslam: The Miz vs. Finlay vs. John Morrison vs. Matt Hardy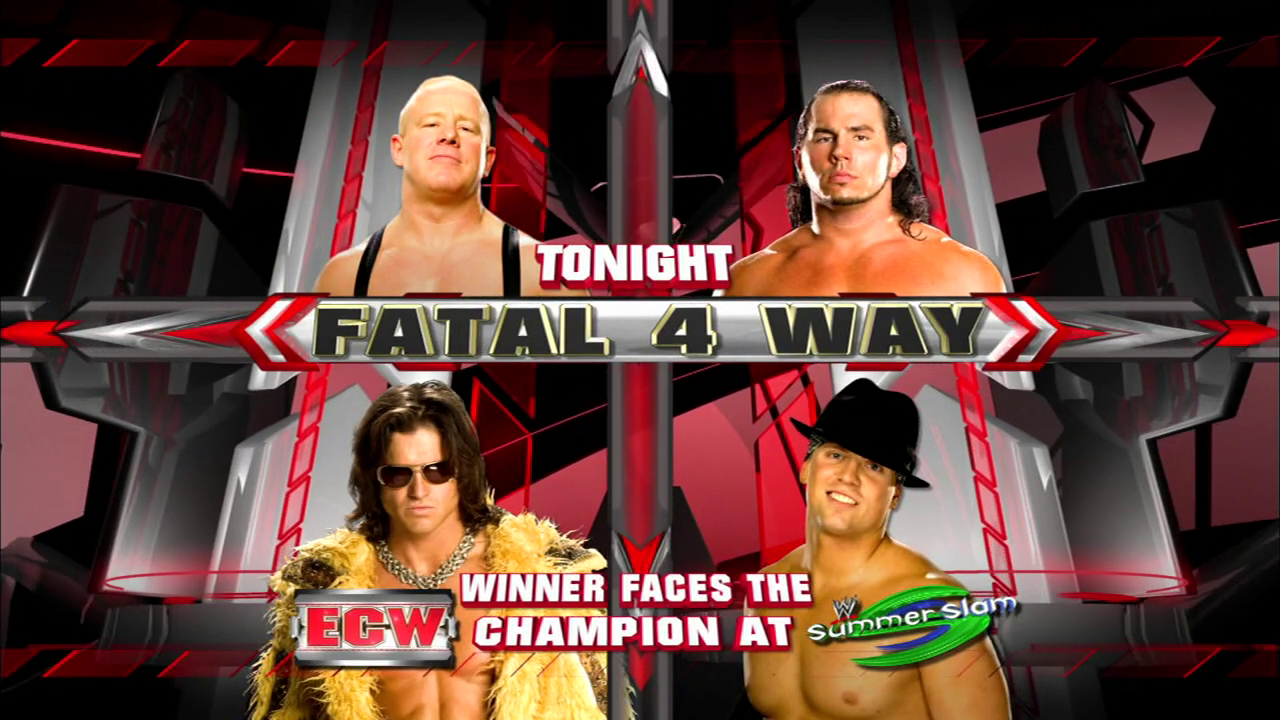 Miz gets a quick roll-up on Morrison to begin but it's stopped by Finlay & Matt who throw both men out the ring so they can scrap. Matt shoves Finlay to show he isn't intimidated so Finlay decks him. Mat tries to headscissor him using the ropes but Morrison pulls him out and I'm already realising this is going to be a bitch to type. Hardy & Finlay work over Morrison & Miz again with Miz getting smacked around as JBL is in the vinegar strokes.
We take a break and come back to more pin-fall attempts. It's nice seeing a match with urgency but there's been a lack of coherence and feels more like a battle royal with pins. Finlay tries pinning everyone but Morrison sends him outside, Morrison sees the ring-apron spot coming so he pauses and kicks Finlay. Yeah, learning! Sadly Hornswoggle interjects so Finlay throws Morrison over the guard-rail. Morrison defends himself with a fan's drink, fucking up a camera. Morrison & Miz land the rest-your-opponent-on-knees-while-the-guy-jumps-on-him double-team off he guard-rail to take Finlay out the match.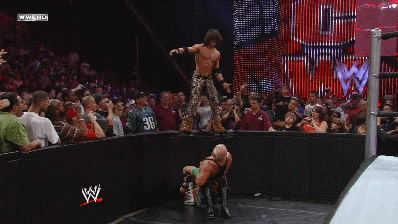 Matt gets double-teamed in the ring but the team starts arguing about who gets the pin, leading Matt to make a comeback. Morrison misses the springboard kick and nails Miz in the process, Matt gets Side Effect on Morrison but Finlay returns to land Celtic Cross on Matt. Crowd is revved up now. Finlay decimates everyone and lands a missile dropkick off the second rope (!) as pin attempts unfold everywhere. Matt nearly pins Finlay but Miz interrupts with a clothesline, Finlay twats Miz with the stick leading Matt free to connect with the Twist of Fate on Morrison to go to Summerslam.
Winner: Matt Hardy (The new breed (no not Burke) of ECW headliners were perfecting the multi-man ending sequence that resemble Rube Goldberg machines and the crowd so far has been loving the rollercoaster of near-falls.)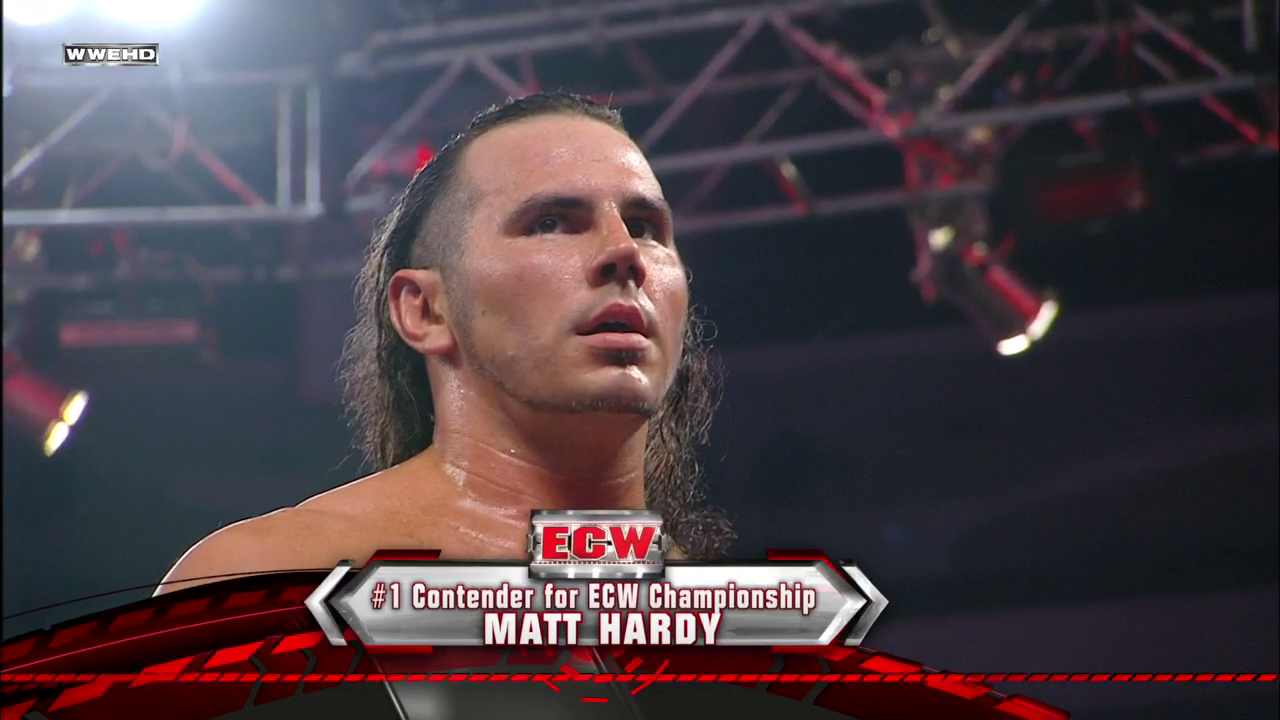 Overall: New title, new feuds, new look for Delaney…yep we're finally at The New ECW On Sci-Fi period of 2008 we all (some of) look back at with such nostalgia. Let's see if it holds up.
I've been Maffew and I'll be at STARRCAST. I don't get it either.