We're in Boston and we have a contract signing for Backlash!


CM Punk vs. The Miz
Miz and Morrison are still WWE Tag Champions despite not defending them much on their own brand. Morrison is commentating and calls Punk's fans "conforming dancing hamsters" who are going to wake up one day and realise they're supporting a loser. Morrison mocks Joey for not coming to his Wrestlemania afterparty because he was on the phone to his mum. Oh there's a match going on but it's nowhere near as interesting as Morrison's commentary. Miz gets kicked and takes the Curt Hennig-hold-the-rope-and-flip bumps which is something I wouldn't expect from Miz. Punk gets distracted by Morrison's abs so Miz shoves him off the apron and into the commentary table. "I'd say he had to pay for that but he probably can't afford it." Miz pounds away on Punk but the crowd chants his name so he becomes motivated enough to land the springboard clothesline. Morrison distracts Punk again so Ref Scott Armstrong sends him to the back. When we return from break, Miz gets a two-count from a rope-snap. Punk gets a sunset flip but Miz and his Kevin Smith-sized shorts regain control with a crossface. Weirdly both men go for a criss-cross sequence ending with a double-collision. Miz stops Punk's MMA-ish kicks with an over-the-ropes splash but Punk ignores it and finishes with the Running Knee/Bulldog/GTS Five Moves Of Salad Days ending sequence.
Winner: CM Punk (Fine fun match in front of a loud crowd. Winning the MITB Briefcase has increased Punk's crowd reaction after treading water for a while and he looks like a star again. Morrison was a blast on commentary like he usually is, weird he was unable to translate that into good promos post-ECW.)
Backstage, Colin Delaney asks for another opportunity from Armando. Dreamer tries to talk for him but Estrada isn't having any of it so he books Dreamer vs. Delaney for the main event…and he doesn't want Dreamer to take him lightly so if Dreamer loses he's fired. "Hahahaha!" – Armando.
Backlash Contract Signing: Chavo makes his way to the ring with the Edgeheads. Chavo talks big and Kane wonders why he's so cocky considering he lost in record time at Wrestlemania. Chavo says it's because he has THIS GUY watching his back and THIS GUY turns out to be some dude BAM NEELY.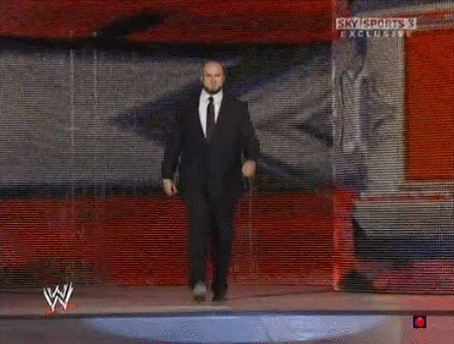 Bam joins in the beat-down and assists Chavo in putting Kane through a table (and his face through the ring.)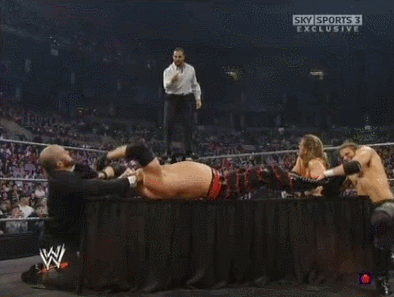 Bam did nothing here to stand out in his debut. No big-ass powerbomb or cool-looking move, just a belt shot that Hawkins or Ryder could have done themselves. It's what he deserved in the long run as he was completely unexceptional but you'd think it'd be easy to have a big dude in a suit make an impressive debut. Must have been out of wooden chairs that day.
Elijah Burke vs. Nunzio
SERIOUSLY? Burke's a few weeks from leaving and he's getting yet another squash match with Nunzio? Oh fuck that, here's some screenshots from the MTV WCW Ultimate Video Bash 1998 instead.
Burke wins.
Kofi Kingston vs. Domino
Consecutive squash matches? That's a bit of a faux-pas. Domino dominates until Kofi "grew up in a rough area of Jamaica" Kingston unleashes all the moves we know and love today and pins him following the Trouble In Paradise kick.
Winner: Kofi Kingston (Life is too short to accurately detail a Domino singles match.)
Layla bickers with Eve Torres backstage about being the new Diva Search winner on ECW on Sci-Fi and all women hate each other etc.
Colin Delaney vs. Tommy Dreamer
Delaney's titantron consists of clips of him getting beat up. For some reasons it sounds like Delaney's music has been removed and they've overdubbed the announcers. Not sure what that's about. Anyway, Dreamer takes down Colin with basic moves which Colin tries his best to counter (like using the ropes to escape a wristlock) but he's as durable as a marzipan dildo so it doesn't last long. Crowd isn't into it because they don't want Dreamer fired but they want Colin employed. Delaney lands a tope to the outside but he doesn't want the count-out win so he drags Dreamer into the ring where he is reverse suplexed. Styles talks about Dreamer "pulling out all the stops" when Tommy's obviously going as easy as he can against Colin and Tazz rightly corrects him. We're about a week away from him leaving and as great as Joey was in ECW, he was Just Another WWE Commentator by 2008. Delaney misses a missile (small rock) dropkick so Dreamer lands the E-pant-C-weez-C running walking Tree of Woe dropkick and ends with the DDT.
Winner: Tommy Dreamer (All storyline here so the crowd wasn't buzzing but it's a weekly storyline that's going places so I'll allow it.)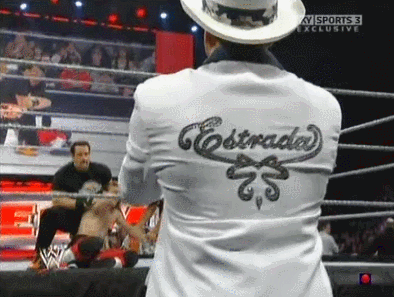 Overall: The New Adventures of Colin Delaney and a fun Miz vs. Punk match make this a watch-if-you-have-the-time recommendation. Oh and BAM NEELY looking like Michael Elgin wearing that ill-fitting suit at the G1 Climax press conference. Actually maybe an Elgin comparison isn't the best thing right now but yeah, decent week.
Moving on, Botchamania 362 is a thing and you can find it by clicking the bit of text to the left there that's a different colour to the rest of the text.