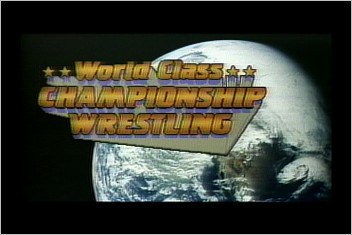 Taped from Dallas, TX
Airdate: January 2, 1982
Attendance: unknown
Hosted by Gene Goodson & Jose Lothario
With the Cubs in the NLCS and football season in full bloom, let's take a quick diversion from 1991 for a trip down to Texas for some old school 'rasslin'.
Opening montage.
Yes, folks, Jose Lothario provides color commentary. You may recall from Survivor Series' 96 when Sid destroyed Lothario with a TV camera.
Match 1: Tom "Boogaloo" Shaft versus Carlos Zapata
Highlights:
Zapata nailed Shaft at the onset, but Shaft recovered with a leap frog followed by a dropkick.
Shortly after, Zapata gave Shaft a back drop for 2.
He then gave Zapata a cross corner whip, but Shaft reversed a second one and delivered his own back drop.
Upon giving Zapata a butt butt, Shaft pinned Zapata.
Shaft won.
Rating: DUD
Summary: Showcase match for Shaft. I'm glad he didn't put him away like the TV show.
Match 2: Big Daddy Bundy versus the Monk
Highlights:
Big Daddy Bundy? Did he have a wife named Peg and scored four touchdowns in one game?
If you've never seen Bundy with hair, here's your chance.
After a back elbow, Bundy hooked a bear hug and SQUISHED him when he took him down to the mat.
GET OUT THE SPATULA!
1-2-3.
Bundy won.
Rating: DUD
Summary: Showcase match for Bundy.
Goodson then interviews Shaft who's ready for San Antonio and the Great Kabuki. Considering Shaft's physique, I believe he's ready for several trips to Whataburger.
After a commercial break, Goodson interviews Kevin and Kerry. According to Kevin, Kerry "wrestles alligators in his spare time." Considering Kerry's poor interviewing skills, methinks he's wrestling something else. In the meantime, Kevin's ready to challenge the Great Kabuki.
Match 3: The Great Kabuki (w/ Gary Hart) versus Jesse Relampago León
Highlights:
Speaking of the Great Kabuki, he's ready to dispose of León.
The literal translation for relampago is flash of lightning. Let's hope León doesn't set Kabuki ablaze.
After a thrust kick, Kabuki hit a superkick.
As León received a cross corner whip, he floated over Kabuki and delivered a back drop.
He then mounted the second turnbuckle and hit a missile dropkick for a 1-count.
When Kabuki responded with an enziguri, he chopped León, mounted the top turnbuckle, and nailed him on the top of the head.
León came back with a cross corner whip followed by a monkey flip.
After he gave Kabuki a pair of flying headscissors, León ate another superkick.
He then delivered a flying forearm but ate a third superkick.
As Kabuki mounted the second turnbuckle, he nailed León.
1-2-3.
Kabuki won.
Rating: *
Summary: Showcase match for Kabuki. Despite that, León's high-flying made this match somewhat exciting.
After the match, Kabuki continues to attack León until Raúl Castro and Kerry Von Erich save him from further harm.
Not THAT Raúl Castro!
Match 4 (non-title): American tag team champions Arman Hussein & "Killer" Tim Brooks versus Kerry & Kevin Von Erich
Highlights:
Oddly, both Bronco Lubich and David Manning officiated this match.
For the first few minutes, all Hussein and Brooks tried to do was restrain Kerry from tagging in his older brother.
Brooks then guillotined Kerry using the top rope.
After Hussein slammed Kerry on the concrete floor, Kevin took exception and made Hussein HIT THE POLE.
Hussein tagged in, attempted a back drop, but Kerry landed on his feet.
Hot tag Kevin.
Upon ramming Hussein into Brooks, Kevin got 2.
Brooks tagged in but ate a shot to the midsection.
When Kevin hit an elbow drop, he applied the Iron claw to Brooks' midsection. Hopefully, Brooks waited until after the match to eat some Texas Frito pie.
Hussein then broke the hold as all four wrestlers were in the ring.
As Hussein tagged in, he tossed Kevin out of the ring.
The heels then gave Kerry a double slam followed by a catapult/right hand combo.
When they made a second attempt, Kevin mounted the top turnbuckle and hooked a sunset flip on Brooks.
1-2-3.
The Von Erichs won.
Rating: **
Summary: While the tag formula wasn't done to perfection, the Dallas faithful ate everything the Von Erichs did with a Texas-sized spoon.
Conclusion: For those unfamiliar with WCCW, this was a good introduction as Shaft, Bundy, and the Von Erichs established themselves as babyfaces while Kabuki, Hussein, and Brooks generated heat with their heel shenanigans. If you've ever heard the expression "your daddy's 'rasslin'," this show defines it. Next week, Kerry Von Erich faces the Great Kabuki. I can't wait! Can you?
TV Rating: NONE
Stay tuned for WCCW 1-9-82!
Comments? Suggestions? Send them to me at rsg@rockstargary.com and follow me on Twitter (@rockstargary202). Also, please be sure to check out all of my reflections at rockstargary.com.