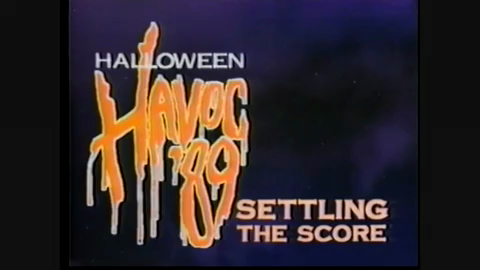 Live from Philadelphia, PA
Airdate: October 28, 1989
Attendance: 7,300
Hosted by Jim Ross & Bob Caudle
Put Flair, Funk, Sting, and Muta in a cage. Mix in electricity, Gary Hart, and a Philly crowd. Will the recipe be a masterpiece? Or a disaster? Read on!
To begin the show, Gordon Solie runs down his list of interviewees backstage. Of course, I won't spoil it for you.
Making his NWA PPV debut, Christopher Cruise does the same from another portion of backstage. Hopefully, Halloween Havoc doesn't become just another episode of WCW Worldwide due to his involvement.
Match 1: Z-Man versus "Captain" Mike Rotunda
Highlights:
Rating: **
Summary: Same finish as Rotunda's match at Clash VIII. Amazingly, this was Z-Man's biggest victory in WCW thus far.
Backstage, Cruise interviews Sammartino. It's a good thing Ivan Koloff wasn't around to knock him off his throne again.
Match 2: The Samoan SWAT Team & Samoan Savage (w/ the Big Kahuna) versus the Midnight Express & "Dr. Death" Steve Williams (w/ Jim Cornette)
Highlights:
Rating: ***1/2
Summary: The Midnight Express and Williams brought the goods but got robbed in the end.
Backstage, Solie interviews Funk with Hart. Funk wants to create a new dance craze called the "10,000 watt boogie" featuring Flair and Sting. He then calls Flair "fried chicken" after hitting the electrified fence. Clever!
Match 3: "Wildfire" Tommy Rich versus Cuban Assassin
Highlights:
Rating: DUD
Summary: Methinks Rich will NOT regain the NWA title with terrible matches such as this one.
Backstage, Solie interviews the Freebirds.
Match 4 for the NWA World tag team titles: The Fabulous Freebirds (champions) versus the Dynamic Dudes (w/ Jim Cornette)
Highlights:
Rating: ***
Summary: Wrestling 101: when the fans boo the babyfaces mercilessly, it's time to break up the team.
Backstage, Cruise interviews the Steiners. Rick refutes Woman's influence as a distraction. That's one tough distraction!
Match 5: Rick & Scott Steiner versus Doom (w/ Woman)
Highlights:
Rating: ***
Summary: Finish makes sense since Doom is new to the scene. As expected, the feud between Woman and the Steiners continues.
Backstage, Solie interviews Luger who informs Pillman that his "exhibition skirmishes are over."
Match 6 for the NWA US title: The "Total Package" Lex Luger (champion) versus Brian Pillman
Highlights:
Rating: ****1/2
Summary: Wow! Combine Pillman's speed and high-flying with Luger's timing, and this is a great match. The Philly faithful ate this up with a spoon and fork.
Backstage, Cruise interviews the Road Warriors with Ellering. They're ready to "reduce (the Skyscrapers) to rubble."
Match 7: The Road Warriors (w/ "Precious" Paul Ellering) versus the Skyscrapers (w/ Teddy Long)
Highlights:
Rating: ***
Summary: Did you truly think one of these teams would job in this match? This was high-impact pro wrestling before it became the standard.
After the match, Spivey tosses Hawk between the ropes to the floor then nails Animal with the golden key. As the Skyscrapers double-team Animal, Hawk mounts the top turnbuckle and levels Spivey with a flying clothesline. He then grabs the key and WALLOPS both Skyscrapers with it.
Backstage, Cruise interviews Sting, Flair, and Ole. That's a unique trio. I wonder if they'll reconvene as a group down the line.
Match 8 (Thunderdome): NWA World Champion "Nature Boy" Ric Flair & Sting (w/ Ole Anderson) versus NWA World TV Champion the Great Muta &Terry Funk (w/ Gary Hart)
Highlights:
Rating: *****
Summary: Tremendously exciting and unique cage match that was action from bell-to-bell.
Conclusion: Once again, World Championship Wrestling delivered a spectacular wrestling show. With awesome tag matches, Luger-Pillman, and the Thunderdome match, this show is a no-brainer for a positive recommendation. Gather your friends and family, fire up the WWE Network, and catch this show.
See you for WWF Saturday Night's Main Event XXIII!
Rating: 1.77
Comments? Suggestions? Send them to me at rsg@rockstargary.com and follow me on Twitter (@rockstargary202). Also, please be sure to check out all of my reflections at rockstargary.com.