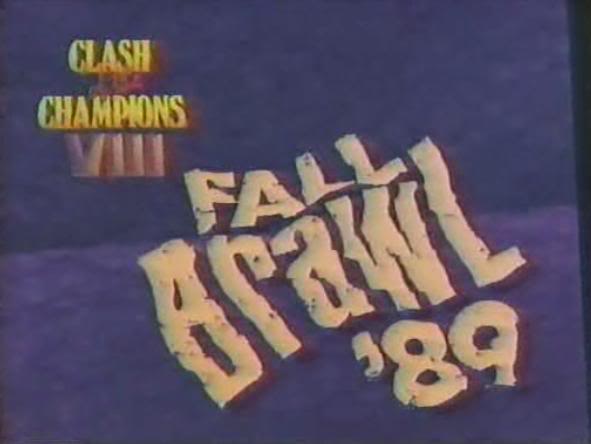 Live from Columbia, SC
Airdate: September 12, 1989
Attendance: 2,600
Hosted by Jim Ross & Jim Cornette
Put Flair, Funk, Sting, Muta, and Gary Hart in the main event, and let's see if it's a masterpiece or a cafeteria special. Read on!
To begin the program, we revisit GAB '89 when Terry Funk and Muta double-teamed Flair until Sting saved him. The bar for this show has been set very high with that intro.
Backstage, Gordon Solie interviews Gary Hart who states there are ZERO problems with his "camp." That's until someone puts a cherry bomb in the camp fire, Gary.
Match 1: The Samoan SWAT team (w/ Paul E. Dangerously) versus the Road Warriors (w/ "Precious" Paul Ellering)
Highlights:
Rating: **1/2
Summary: Somehow Patrick didn't see Hawk's improper use of dialing someone person-to-person. Perhaps he needed a side job with AT&T.
After the match, Ellering DEMOLISHES the phone to smithereens.
NOT those smithereens, but nonetheless it's a good tune. The SST then expresses its dissatisfaction with Dangerously. Do I smell a managerial change?
During the commercial break, an ad for Halloween Havoc aired. It will be live on PPV come 10/28.
Match 2: Z-Man versus Cuban Assassin
Highlights:
Rating: *1/2
Summary: Showcase match for Z-Man. Possible pot-shot at Beefcake, perhaps?
After a commercial break, South Carolina Carroll Campbell declared today to be "Ric Flair Day." In case you're wondering, Campbell helped to lure BMW to build a plant in Greer, SC. Get your I8 with a side of grits. Woohoo
Match 3: Sid Vicious (w/ Teddy Long & Dan Spivey) versus Ranger Ross
Highlights:
Rating: ½*
Summary: Showcase match for Sid.
After the match, Ross predicts that Sid will be "World champion someday." He's quite the prognosticator. I bet he predicted the Sooners would beat Auburn in the Sugar Bowl this year.
We then get a "feature" involving Missy Hyatt and Robin Green. Without any doubt, I would compare the beating Ranger Ross took against Sid to what Green did to her American Express card during that shopping spree.
Backstage, Solie interviews the Freebirds. While Garvin is in limburger mode, Hayes demands respect.
Ad #2 for Halloween Havoc aired.
Match 4 for the NWA World tag team titles: The Fabulous Freebirds (champions) versus Rick & Scott Steiner (w/ Missy Hyatt & Robin Green)
Highlights:
Rating: ***1/2
Summary: Intriguing finish to a good match. I look forward to seeing an upcoming rematch. The 64,000 question is: Who tripped Scott?
Match 5: Brian Pillman versus Norman the Lunatic (w/ Teddy Long)
Highlights:
Rating: **1/2
Summary: Pillman brought the goods here, but I'm no fan of Norman so your mileage may vary.
After the match, Long berates Norman.
Backstage, Solie interviews Hart again. Hart decrees that Funk IS in the building. But where's Elvis?
Thanks for the clarification, Colonel.
Match 6: "Captain" Mike Rotunda versus "Dr. Death" Steve Williams
Highlights:
Rating: **1/2
Summary: Great use of counter-wrestling to finish the match.
Afterward, Rotunda clotheslines Williams sending him between the ropes to the floor. He then joins and makes Williams taste the steel railing. It must taste like the Wadmalaw burger at Pawley's Front Porch.
Backstage, Solie interviews Luger. Other than his speaking in third-person, this was a generic Luger promo.
Ad #3 for Halloween Havoc. Have you contacted your cable provider yet?
Match 7 for the NWA US title: The "Total Package" Lex Luger (champion) versus "Wildfire" Tommy Rich
Highlights:
Rating: ****
Summary: This was MUCH better than I expected it to be. The only issue I had with the match was that Luger could have used more heel tactics to get his character over with the Columbia faithful.
After the match, Rich attacks Luger in the aisle, but Luger backs off.
Backstage, and for the THIRD time, Solie interviews Hart who has a "certified letter" from a doctor in Shreveport, LA. We then see a pre-recorded promo from Funk from the hospital. Funk attributes his infected arm to Flair with the branding iron. He then vows to "get Ric Flair. Damn it!"
After a commercial break, Solie interviews Flair and Sting backstage.
Match 8: NWA World Champion "Nature Boy" Ric Flair & Sting versus "Dirty" Dick Slater & NWA World TV Champion the Great Muta (w/ Gary Hart)
Highlights:
Rating: ****
Summary: Wild crazy ending to an awesome tag match with incredible heat.
After a commercial break, Pillman and Sting along with Doug Dillinger check on Flair. The trainer then bandages Flair's head as Ross and Cornette explain that Flair received CPR during the break. Kids do NOT try this at home.
Conclusion: Absolutely amazing show with two great matches at the end make this an absolute must-see for wrestling fans. While the plastic bag incident wouldn't fly with today's wrestling audience, it showed how much disdain Funk had for Flair. I'm ready for more 1989 NWA. How about you?
See you for NWA Halloween Havoc '89!
Rating: 3.80
Comments? Suggestions? Send them to me at rsg@rockstargary.com and follow me on Twitter (@rockstargary202). Also, please be sure to check out all of my reflections at rockstargary.com.