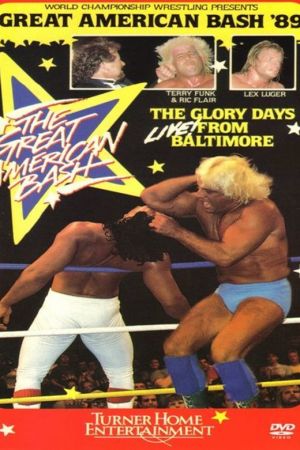 Live from Baltimore, MD
Airdate: July 23, 1989
Attendance: 14,500
Hosted by Jim Ross & Bob Caudle
Thus far, 1989 has been great. Can the NWA continue the trend with this show? Read on!
This reflection is sponsored by Coca-Cola. Thanks, WWE Network!
Match 1 (Triple Crown King of the Hill double-ring battle royale):
Participants:
Eddie Gilbert, Terry Gordy, Scott Hall, "Wild" Bill Irwin, Brian Pillman, Ranger Ross, Mike Rotunda, Ron Simmons, Dan Spivey, Rick Steiner, Scott Steiner, Kevin Sullivan, "Dr. Death" Steve Williams, & Sid Vicious
Highlights:
Rating: NONE
Summary: Since this is the PPV debut of the Skyscrapers, it made sense that they would win and split the purse.
Not THAT kind of purse!
Backstage, Gordon Solie interviews Long who claims his Skyscrapers are the best and are ready for all comers. Bring on the Dynamic Dudes!
Match 2: Brian Pillman versus "Wild" Bill Irwin
Highlights:
Rating: **1/2
Summary: Really good PPV showcase match for Pillman.
Backstage, Solie interviews Dangerously who would rather destroy Cornette than win. He's also aware of Cornette's knee brace. I smell strategy.
Match 3: The Dynamic Dudes versus the Skyscrapers (w/ Teddy Long)
Highlights:
Rating: **
Summary: Despite being heels, the Baltimore faithful showed their love for the Skyscrapers especially Sid.
Backstage, Solie interviews Cornette who's ready to prove himself.
Match 4 (tuxedo): Jim Cornette versus Paul E. Dangerously (a.k.a. the Psycho Yuppie)
Highlights:
Rating: *
Summary: This was more of a feud settlement than a wrestling match. In turn, each manager sold the other's offense well to make it entertaining. I'm glad they pulled off a brawl rather than the WWF-style comedy match.
After the match, Cornette spikes Dangerously's cell phone and racquet in celebration.
Backstage, Solie interviews Gary Hart who speaks for Muta.
Match 5 (Texas tornado): The Varsity Club versus Rick & Scott Steiner (w/ Missy Hyatt & a blood hound)
Highlights:
Rating: ***
Summary: Creative finish to a good four-way brawl.
Immediately after the match, Solie interviews Sting with Gilbert. Uncharacteristically, Sting maintains his sanity but loses it immediately upon finishing his promo on Muta. Meanwhile, Gilbert will monitor Hart on Sting's behalf.
Match 6 for the NWA World TV title: Sting (champion w/ "Hot Stuff" Eddie Gilbert) versus the Great Muta (w/ Gary Hart)
Highlights:
Rating: ****
Summary: Extremely fast-paced match showcasing both wrestlers' excellent styles.
After the match, Muta grabs the TV belt, showcases it to his supporters in the crowd, and leaves the ring with it. As Sting stands in a quandary, the Baltimore faithful helps him with a "BULLSHIT" chant. Afterward, the replay confirms Ross' initial call.
Backstage, Solie interviews Luger who wants the no-DQ stipulation waived.
Match 7 for the NWA US title (no-DQ): The "Total Package" Lex Luger (champion) versus Ricky "The Dragon" Steamboat
Highlights:
Rating: ***1/2
Summary: A bogus yet meaningful finish to a match with tremendous drama. Since Luger had only recently regained the title, it made sense that he maintained it.
After the match, Steamboat WALLOPS Luger in the back and midsection with the chair. As Luger retreats, Steamboat tries to crush his skull with it but hits the steel railing instead. He then chases Luger backstage.
While the WarGames cage is being lowered, a pre-taped promo by the Freebirds and SST airs. Following that, Lane cuts a promo while Williams imitates Superman by "flying" from left to right and back again. Bartender, I'll have what he's having. When the Road Warriors emerge, Hawk mentions his beatdown at the hands of the Freebirds and SST (aired 7/14, taped 7/6).
Match 8 (WarGames): NWA World tag team champions the Fabulous Freebirds & Samoan SWAT team (w/ Paul E. Dangerously) versus the Road Warriors, the Midnight Express, & "Dr. Death" Steve Williams (w/ "Precious" Paul Ellering & Jim Cornette)
Highlights:
Rating: ****
Summary: Extremely entertaining match with a unique finish.
After the match, the heels attack Animal before he can exit the cage. How dastardly! Since the faces can't interfere, Gordy clotheslines Animal while Samu mounts the top turnbuckle and gives him a diving head butt. Finally, Hawk and Williams break in to save Animal.
Backstage, Solie interviews Flair who believes he's "120%." He must be using the new math.
Match 9 for the NWA World title: "Nature Boy" Ric Flair (champion) versus Terry Funk (w/ Gary Hart)
Highlights:
Rating: ****
Summary: Excellent bloody brawl as Flair outwrestled Funk at the end.
After the match, Hart enters the ring only to get nailed by Flair. Abruptly, Muta runs in and blinds Flair with green mist. Funk and Muta then double-team Flair as Muta nails him with the World title belt. As the Baltimore faithful chants "We Want Sting," Funk tries to piledrive Flair on a chair, but WCW security director Doug Dillinger prevents it albeit getting nailed in the process.
As Muta nails Flair with a chair, Sting runs in not only to aid Flair but also go after Muta. A four-way brawl breaks out until the faces get the upper hand. That is until Flair and Sting meet Funk and Muta in the aisle to continue the melee until the heels retreat backstage.
According to Ross, the TV title has been held up. As Ross and Caudle try to wrap up the show, the four-way brawl continues behind them as Sting nails Muta with a chair to the head. Flair then gets ahold of the branding iron and WAFFLES both Funk and Muta with it. This is WILD! Add an extra ½* for the aftermath.
Ross then interviews Flair who thanks Sting for his assistance. He then calls out Funk by stating "I'm gonna dog you until I wear your Texas ass out." Now THOSE are fighting words.
Conclusion: With not one, not two, but three four-star matches along with other good matches, this is one of the greatest wrestling spectaculars of all-time. Whether you enjoy some hardcore action like the Steiners-Varsity Club match, a feud-settling tuxedo match, non-stop battles with Sting-Muta and Luger-Steamboat, a grueling WarGames match, or an absolute bloodbath in Flair-Funk, this card was stacked and booked extremely well. Great job, WCW! I'm ready for more!
See you for WWF Saturday Night's Main Event XXII!
Rating: 1.50
Comments? Suggestions? Send them to me at rsg@rockstargary.com and follow me on Twitter (@rockstargary202). Also, please be sure to check out all of my reflections at rockstargary.com.